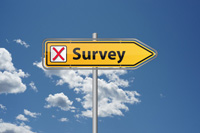 Shaka. For this week, the Data Dude reminds you of the annual Public Library Survey sponsored by the Institute of Museum and Library Services (IMLS). The survey is important because the completion of it is tied into State Aid if you are accredited, and Dollar$ for Data (actual cash money) if you are not accredited. You may work on the survey a little at a time, picking up where you've left off (make sure you click on the red "save" button at the bottom or top of each page). If you have any questions throughout the process, please contact me. The deadline for submission is February 13, 2015. There are tips and instructions on the Bibliostat section of the NLC website. This is also where you log in to the survey. The purpose in writing today is to provide a few tips about the potentially unpleasant method of reporting eBook and Audiobook downloads. If you are in the OverDrive consortium and were a member when statistics were reported last year, the following guide will help you with your reporting. If you recently joined, you need to tweak the numbers below a bit. For the new people, on elements 4.5 and 4.13 (previous year's holdings), the number would be "0", and you would add the 4.8 and 4.16 totals into element 4.6 so that you get the same numbers for 4.8 and 4.16 below.
NOTE: If you have an Advantage account, you need to add those Advantage numbers to the figures below, and enter the number of items that you withdrew.
Another tip: when you enter the survey, you can click on "show last year's answers" (red box in the upper right hand corner). This often helps when completing this year's survey. Good luck (you might need it), and feel free to contact me if I can clarify anything.
October 1, 2013 – September 30, 2014 FY
eBooks:
4.5 – E-books held at end of previous FY: 10,816
4.6 – Number added during the year: 5,042
4.7 – Number withdrawn during year: 0
4.8 – E-Books held at the end of the current year: 15,858
Audiobooks:
4.13 – Audio downloadable titles held at end of previous FY: 5,878
4.14 – Number added during year: 1,992
4.15 – Number withdrawn during year: 0
4.16 – Audio downloadable titles held at the end of the current year: 7,870
July 1, 2013 – June 30, 2014 FY
eBooks:
4.5 – E-books held at end of previous FY: 7,896
4.6 – Number added during the year: 6,613
4.7 – Number withdrawn during year: 0
4.8 – E-Books held at the end of the current year: 14,509
Audiobooks:
4.13 – Audio downloadable titles held at end of previous FY: 4,860
4.14 – Number added during year: 2,390
4.15 – Number withdrawn during year: 0
4.16 – Audio downloadable titles held at the end of the current year: 7,250