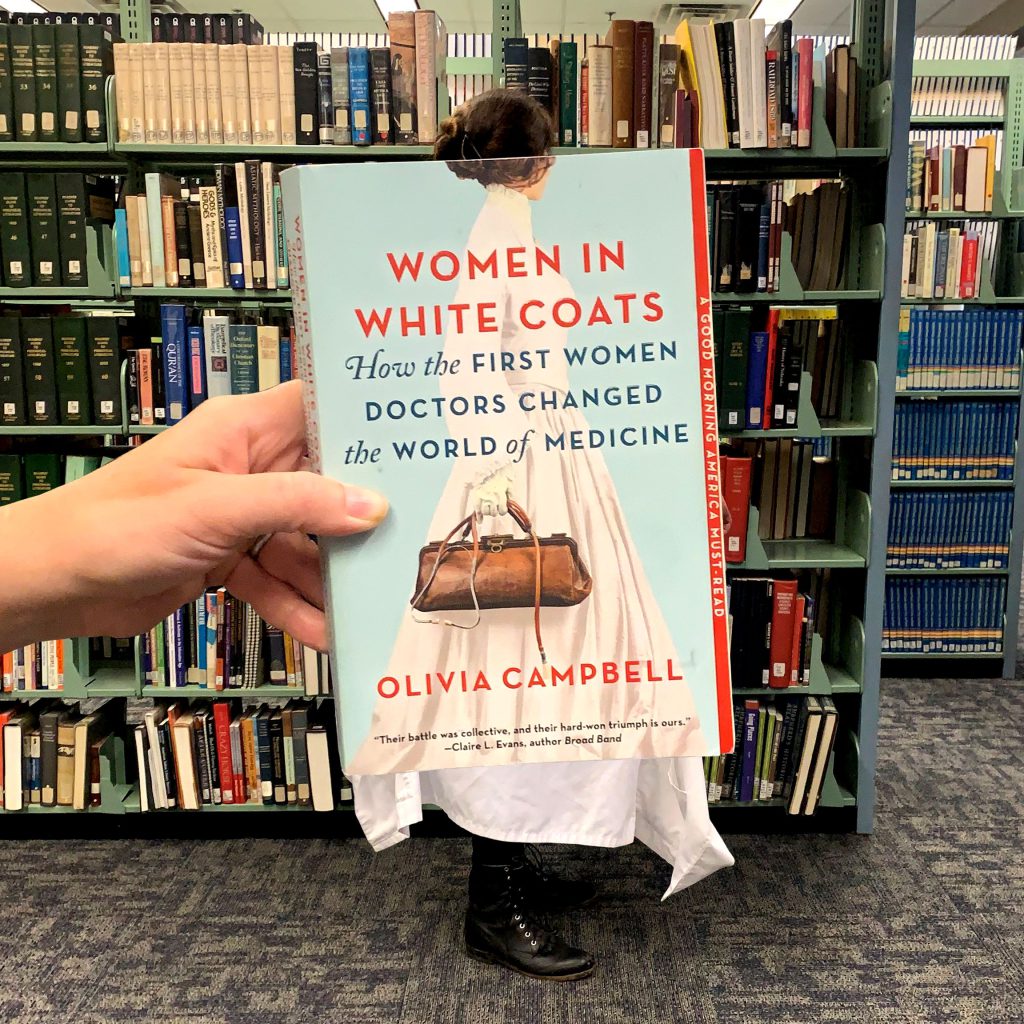 This nonfiction account of Victorian-era medicine and female doctors makes for an incredible #BookFaceFriday! You might have noticed this week's title is new to the Book Club Kit collection, on the New York Times Bestseller list, or in our Browse New Additions section. Check out "Women in White Coats: How the First Women Doctors Changed the World of Medicine" by Olivia Campbell (Park Row, 2022.) We currently have eleven copies available in our Book Club Kit Collection. It's also available as an ebook in Nebraska OverDrive Libraries.
"An engrossing portrait of a transformative moment in Victorian medicine, when women doctors demanded the right to heal and be healed. Their battle was collective, and their hard-won triumph is ours. Women in White Coats is a timely reminder of just how many hands it takes to move mountains."

— Claire L. Evans, author of Broad Band: The Untold Story of the Women Who Made the Internet
Book Club Kits Rules for Use
These kits can be checked out by the librarians of Nebraska libraries and media centers.
Circulation times are flexible and will be based upon availability. There is no standard check-out time for book club kits.
Please search the collection to select items you wish to borrow and use the REQUEST THIS KIT icon to borrow items.
Contact the Information Desk at the Library Commission if you have any questions: by phone: 800/307-2665, or by email: Information Services Team
Find this title and many more through Nebraska OverDrive! Libraries participating in the Nebraska OverDrive Libraries Group currently have access to a shared and growing collection of digital downloadable audiobooks and eBooks. 189 libraries across the state share the Nebraska OverDrive collection of 21,696 audiobooks, 35,200 eBooks, and 3,964 magazines. As an added bonus it includes 130 podcasts that are always available with simultaneous use (SU), as well as SU ebooks and audiobook titles that publishers have made available for a limited time. If you're a part of it, let your users know about this great title, and if you're not a member yet, find more information about participating in Nebraska Overdrive Libraries!
Love this #BookFace & reading? Check out our past #BookFaceFriday photos on the Nebraska Library Commission's Facebook page!