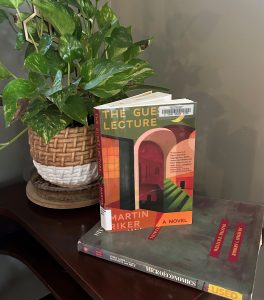 If stream-of-consciousness writing, existential dread, and fun facts about 1930's economic theory are your jam, you are in for a treat.
When Abby accepted the invitation to give a guest lecture on the economic optimism of John Maynard Keynes, she was full of that rose-colored confidence herself – a published academic on her way to securing tenure at a prestigious university, secure in her marriage, renovated home, and promising career.
Now, the night before the speaking engagement, she lies awake in her shabby hotel room, unable to sleep and burdened with self-doubt. Her entire world upended, she has been denied tenure, her book on Keynes declared derivative, and imposter syndrome looms large. Woefully unprepared for her talk, she attempts to silently rehearse while her family slumbers. With an imaginary Keynes keeping her company, she mentally wanders the rooms of her house while discussing the economist's predictions and historical relevance. Each room conjures memories of mistakes past, anxiety about current political and environmental crises, and rising panic about her future prospects.
As someone who often has trouble shutting off their brain to drift into dreamland, it was nice to step into someone else's headspace for a while. I'll admit, I read well past my bedtime.
Martin Riker. The Guest Lecture. New York, Grove Press, Black Cat, 2023.