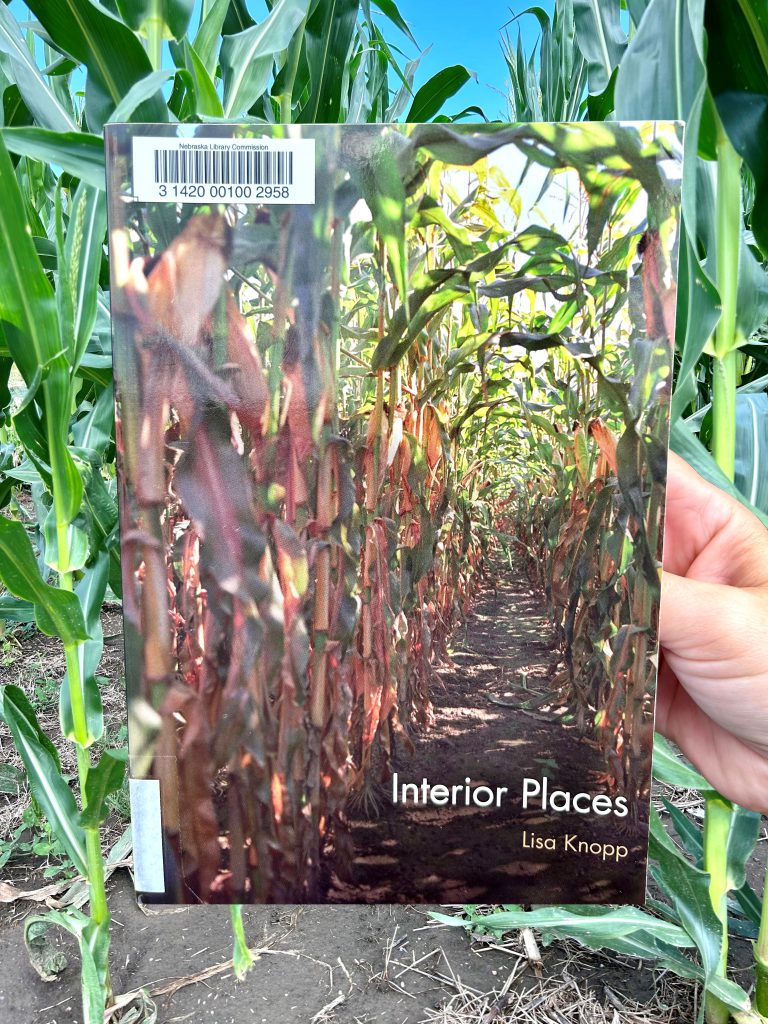 This week's #BookFaceFriday is out standing in her field. She's simply a-maize-ing! Sorry, too corny? We'll stop before we get creamed. We can't help ourselves – we love a good corn pun as much as we love Nebraska authors!
One such author is Lisa Knopp. Her book of essays, mostly set in Nebraska and Iowa, "Interior Places" (Bison Books, 2008) is available as a Book Club Kit. The Nebraska Library Commission has three of Knopp's titles available to readers in our Book Club Collection. You can find this title and all the Nebraska themed books available on our Book Club Kits page; just look in the Browse Options section and select the Browse Nebraska-Related Books link. Add it to your to-be-read list today!
"Whether watching wood ducks with naturalist Aldo Leopold's brother Frederick or contemplating the quotidian lives of two of P.T. Barnum's circus giants, Knopp's observations have been finely honed over time and place into purposeful explorations of themes that have percolated throughout her childhood and finally come to fruition in her adult roles as writer and professor, mother and daughter."

—Carol Haggas, Booklist
Book Club Kits Rules for Use
These kits can be checked out by the librarians of Nebraska libraries and media centers.
Circulation times are flexible and will be based upon availability. There is no standard check-out time for book club kits.
Please search the collection to select items you wish to borrow and use the REQUEST THIS KIT icon to borrow items.
Contact the Information Desk at the Library Commission if you have any questions: by phone: 800/307-2665, or by email: Information Services Team
Love this #BookFace & reading? Check out our past #BookFaceFriday photos on the Nebraska Library Commission's Facebook page!