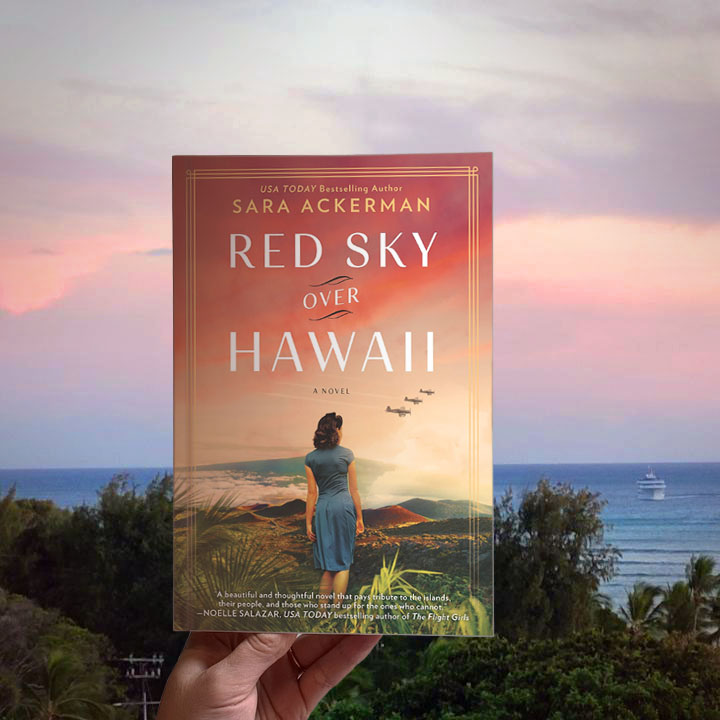 If only we all could have taken a trip for this week's #BookFace! Luckily our Library Development Director, Christa Porter, helped us out while at the Western Council of State Libraries Annual Meeting in Honolulu. Even if you can't go to Hawaii, you can always get away with a good read, like this week's #BookFaceFriday "Red Sky Over Hawaii: A Novel" by Sara Ackerman (MIRA, 2020.) A historical fiction novel set in Hawaii after the attack on Pearl Harbor. It's available for checkout as an audiobook or ebook from Nebraska Overdrive Libraries. We actaully have five titles by Sara Ackerman available on Nebraska OverDrive Libraries, check them all out today.
"With effortless prose, Ackerman skillfully navigates the early days of WWII with captivating characters bonded by circumstance. Mystery and magic are woven around Lana and the pages of this book, delivering a beautiful and thoughtful novel that pays tribute to the lore of the islands, their people, and those who stand up for the ones who cannot."

―Noelle Salazar, bestselling author of The Flight Girls
Find this title and many more through Nebraska OverDrive! Libraries participating in the Nebraska OverDrive Libraries Group currently have access to a shared and growing collection of digital downloadable audiobooks and eBooks. 188 libraries across the state share the Nebraska OverDrive collection of 21,696 audiobooks, 35,200 eBooks, and 3,964 magazines. As an added bonus it includes 130 podcasts that are always available with simultaneous use (SU), as well as SU ebooks and audiobook titles that publishers have made available for a limited time. If you're a part of it, let your users know about this great title, and if you're not a member yet, find more information about participating in Nebraska Overdrive Libraries!
Love this #BookFace & reading? Check out our past #BookFaceFriday photos on the Nebraska Library Commission's Facebook page!