Learn new techniques to create custom WordPress layouts on next week's NCompass Live webinar, on Wednesday, August 31 at 10am CT..
Special monthly episodes of NCompass Live! Join the NLC's Technology Innovation Librarian, Amanda Sweet, as she guides us through the world of library-related Pretty Sweet Tech.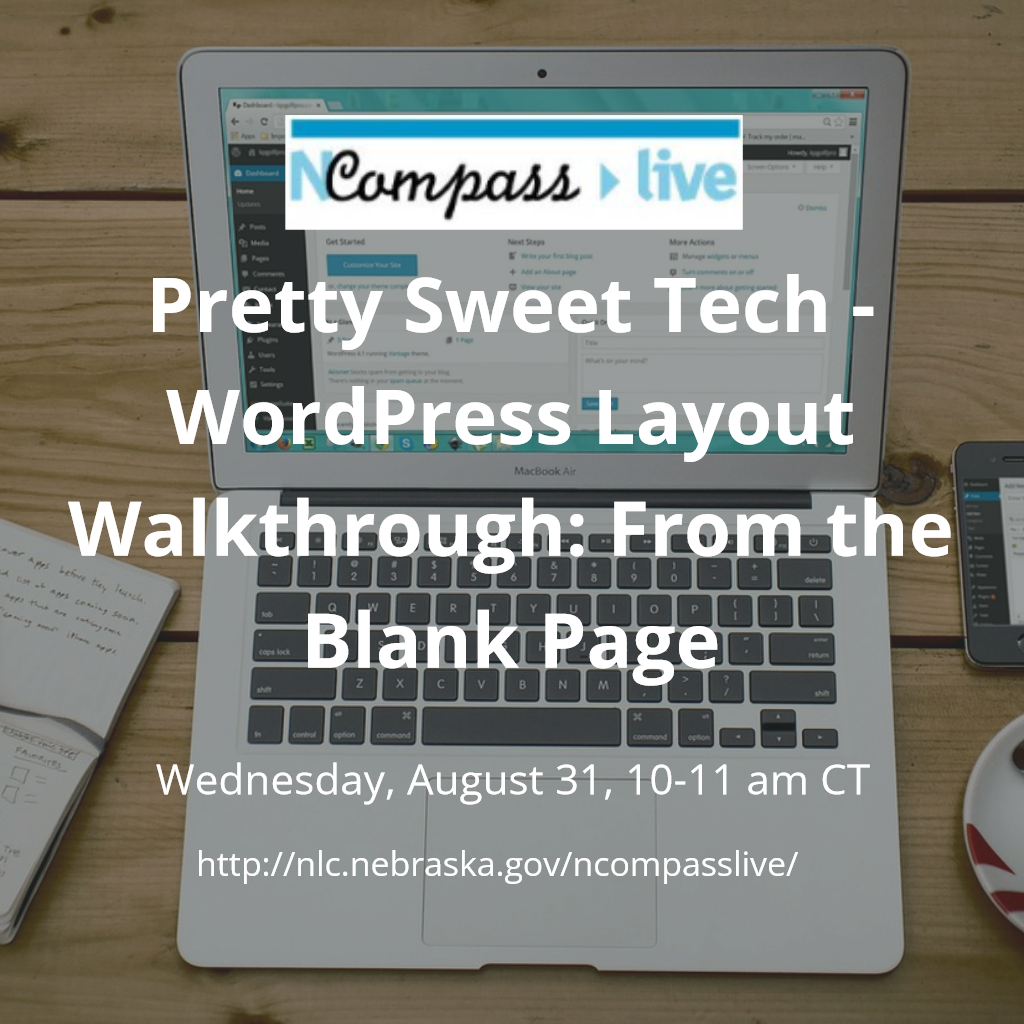 The most common WordPress question I have been getting is: "how do you make custom WordPress layouts from the ground up?" This session is for anyone who wants to design a website without the layout restrictions that happen with pre-defined themes. This will be a WordPress & Elementor plugin demonstration/ tutorial that you can revisit to learn these different techniques:
Building a color palette using coolors.co
Using alternating color block layouts.
Adding a Shape Divider between sections to add flair.
Building custom images for the web with Canva (for free).
Responsive two-column layouts
Responsive card style layouts
Responsive font-sizes for headers and paragraphs
If you want to learn new techniques with some of the lesser-known Elementor features, this is the session for you! I will be taking requests for technique demos as time permits. I hope to see you there!

Upcoming NCompass Live shows:
Sept. 7 – Retirement: Time to Ease on Down, Ease on Down the Road
Sept. 21 – Letters About Literature 2022
Sept. 28 – Pretty Sweet Tech
Oct. 5 – NO NCOMPASS LIVE THIS WEEK – ENJOY NLA!
For more information, to register for NCompass Live, or to listen to recordings of past events, go to the NCompass Live webpage.
NCompass Live is broadcast live every Wednesday from 10am – 11am Central Time. Convert to your time zone on the Official U.S. Time website. The show is presented online using the GoToWebinar online meeting service. Before you attend a session, please see the NLC Online Sessions webpage for detailed information about GoToWebinar, including system requirements, firewall permissions, and equipment requirements for computer speakers and microphones.