Learn about a free tool-kit for Nebraska public libraries containing health resources for you and your patrons on next week's NCompass Live webinar, 'Expanding the Health Information Landscape In Your Public Library' on Wednesday, April 6 at 10am CT.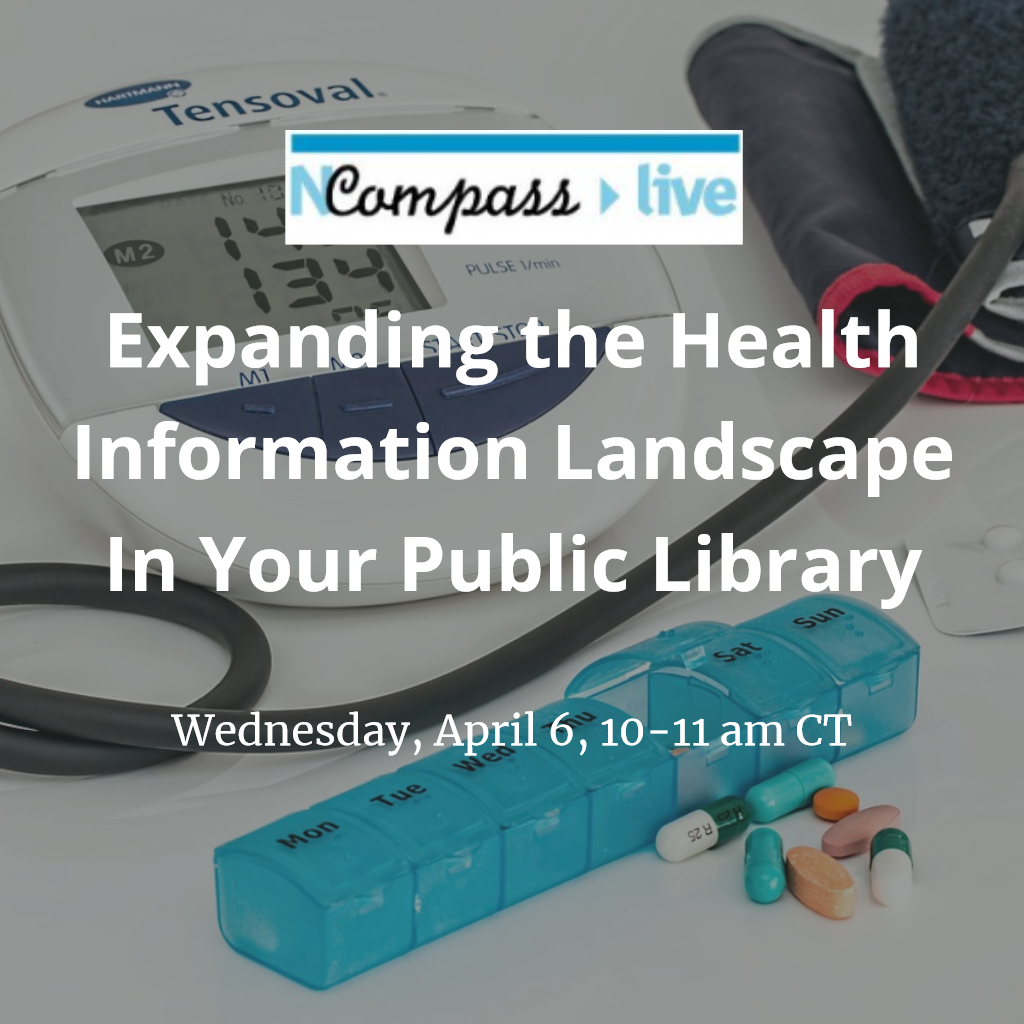 Answering your patrons' health questions can be daunting. It requires expertise and being able to break through literacy and language barriers. However, as the past two years have shown us, libraries' involvement in health education has never been more important than it is today. As a Catalysts for Community Health Fellows through the Institute of Museum and Library Services and The University of Missouri-Columbia, we've spent the last two years developing knowledge of community health resources for Nebraska public libraries and researching ways to support public library staff with health reference and education to their communities.
With the guidance of Region 3 of the National Network of Libraries of Medicine, we've developed a tool-kit for Nebraska public libraries containing free health resources for you and your library. These include posters, brochures, social media slides, tutorials, and multi-lingual health information. In addition, the tool-kit expands on further training for your staff, funding opportunities, and how to tap in to regional medical librarians and community health data to continue to support your patrons' health needs. We're excited to share this tool-kit with all of you and make it freely available to webinar participants to use and share as they wish.
Presenters: Melanie Newell and Kimberly Rothgeb are IMLS Catalysts for Community Health Fellows at the University of Missouri-Columbia School of Information Science and Learning Technologies (SISLT). Melanie is a Lincoln City Libraries employee, and Kimberly works for the University of Nebraska Medical Center.
Upcoming NCompass Live shows:
April 13 – Tweak Your Library's Social Media
April 20 – Starting a Board Game Club at a Small Library
April 27 – Pretty Sweet Tech – The 40 Day Challenge Initiative
For more information, to register for NCompass Live, or to listen to recordings of past events, go to the NCompass Live webpage.

NCompass Live is broadcast live every Wednesday from 10am – 11am Central Time. Convert to your time zone on the Official U.S. Time website. The show is presented online using the GoToWebinar online meeting service. Before you attend a session, please see the NLC Online Sessions webpage for detailed information about GoToWebinar, including system requirements, firewall permissions, and equipment requirements for computer speakers and microphones.