Get blown away by this #BookFaceFriday!
January 12, 1888, began as an unseasonably warm morning across Nebraska… but that's not how it ended. Today for #BookFaceFriday we have a tale of two books, both titled "The Children's Blizzard," and both about that fateful snowstorm. And yes, they are both a part of one or more of our collections. First, we have "The Children's Blizzard: A Novel" by Melanie Benjamin (Delacorte Press, 2021) is brand new to our Nebraska OverDrive Libraries collection, and it's available in both eBook and Audiobook.
"In this piercingly detailed drama, riveting in its action and psychology, Benjamin reveals the grim aspects of homesteading, from brutal deprivations to violent racism toward Native Americans and African Americans, while orchestrating, with grace and resonance, transformative moral awakenings and sustaining love."—Booklist (starred review)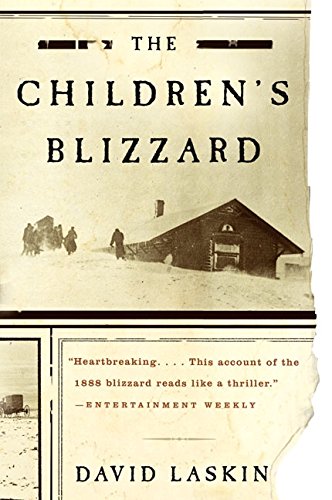 Our second contender is "The Children's Blizzard" by David Laskin (Harper Perennial; 3rd edition,2005.) A nonfiction title that is available in both our Book Club Kit Collection and as an eBook and Audiobook in Nebraska OverDrive Libraries. 

"In The Children's Blizzard, David Laskin deploys historical fact of the finest grain to tell the story of a monstrous blizzard that caught the settlers of the Great Plains utterly by surprise. Using the storm as a lens, Laskin captures the brutal, heartbreaking folly of this chapter in America's history, and along the way delves into the freakish physics of extreme cold. This is a book best read with a fire roaring in the hearth and a blanket and box of tissues near at hand." — Erik Larson, author of Isaac's Storm and The Devil in the White City
Love this #BookFace & reading?  Check out our past #BookFaceFriday photos on the Nebraska Library Commission's Facebook page!