Learn about
Grenzenlos Deutsch
, an open online curriculum for beginning German, on next week's FREE NCompass Live webinar, on Tuesday, November 10 at 10am CT.
NOTE! This NCompass Live will be on Tuesday November 10, due to the Veterans Day holiday. It will be at the usual time, from 10am – 11am Central Time.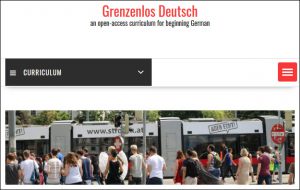 Britt Abel, Co-Project Director of
Grenzenlos Deutsch
and Macalester College faculty; and Louann Terveer, Project Consultant and Digital Initiatives & Scholarly Communication Librarian at the DeWitt Wallace Library, lead this session about the creation of an open educational resource (OER). Learn about the faculty perspective on why and how to dive into an open curriculum project, including an approach from a diversity and inclusion perspective. The planning and collaborative processes will also be covered: obtaining grant funding, workflow, technical aspects, artwork, and creating audio/visual content. This multi-institution authored OER has included support from individuals in the Macalester Art and Art History Department, Information Technology Services, and the DeWitt Wallace Library. Upcoming NCompass Live shows:
Nov. 18 – Summer Reading Program 2021: Tails and Tales
Nov. 25 – Pretty Sweet Tech
Dec. 2 – Reading Diversely
Dec. 9 – Esports and Evidence-Based Connected Learning
For more information, to register for NCompass Live, or to listen to recordings of past events, go to the
NCompass Live webpage
.

NCompass Live is broadcast live every Wednesday from 10am – 11am Central Time. Convert to your time zone on the
Official U.S. Time website
. The show is presented online using the GoToWebinar online meeting service. Before you attend a session, please see the
NLC Online Sessions webpage
for detailed information about GoToWebinar, including system requirements, firewall permissions, and equipment requirements for computer speakers and microphones.