I scream, you scream, we all scream for ice cream in this week's #BookFaceFriday.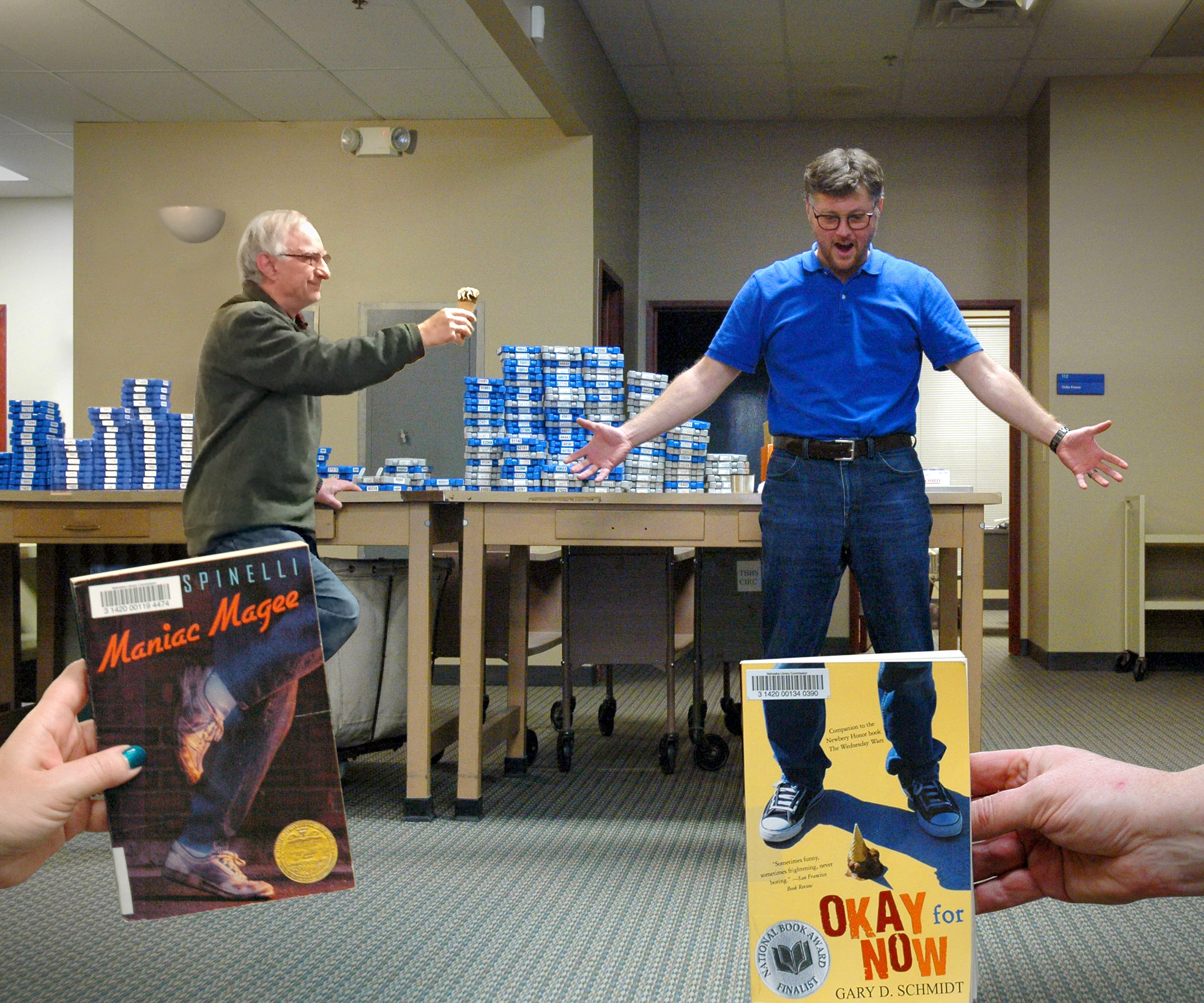 Hold onto your cone, we've got a two-scoop #BookFace for you this week!
A few of the staff over in the Talking Book & Braille department were kind enough to help us out with this week's Book Face (they were generously compensated with ice cream). We're excited to highlight two great YA books in our book club collection, "Maniac Magee" by Jerry Spinelli (Little, Brown Books for Young Readers, 1999) and "
Okay for Now
" by Gary D. Schmidt
(HMH Books for Young Readers, 2013). The Nebraska Library Commission offers book club kits to both public and school libraries.  These two titles have both been honored with award nominations. "Okay for Now" was a National Book Award Finalist and "Maniac Magee" is a Newbery Medal winner! Get these young adult novels reserved for your book club to read today!
"Okay for Now" by Gary D. Schmidt  "Reproductions of Audubon plates introduce each chapter in this stealthily powerful, unexpectedly affirming story of discovering and rescuing one's best self, despite family pressure to do otherwise."—Booklist, starred review "Maniac Magee" by Jerry Spinelli "A Newbery Medal winning modern classic about a racially divided small town and a boy who runs." —Amazon
This week's
#BookFace
models are Gabe Kramer, TBBS Audio Production Studio Manager; and Jerry Hall, TBBS volunteer! A special thanks to TBBS Director, Scott Scholz, for lending a hand. Love this
#BookFace
& reading? We suggest checking out all the titles available for book clubs at
http://nlc.nebraska.gov/ref/bookclub
. Check out our past
#BookFaceFriday
photos on the
Nebraska Library Commission's Facebook
page!