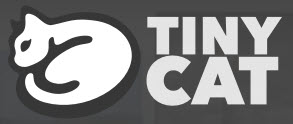 Join us for the next NCompass Live, 'The Purrfect Solution: LibraryThing's TinyCat for Small Libraries', on Wednesday, June 14, 10:00am – 11:00am CT.
LibraryThing presents TinyCat, its new, mobile-friendly solution for small libraries. TinyCat is a full-fledged OPAC for small libraries, with the look and features of high-priced systems, at a price every school, church and other community organization can afford.
Hundreds of other libraries are calling TinyCat "simple", "very easy,", and "a lifesaver!" TinyCat builds on LibraryThing, a long-running and much-beloved social cataloging for book lovers and small organizations. So it's easy to use for librarians and non-librarians alike.
Come explore everything TinyCat has to offer, from handy search tools and fun sharing options to features for tracking your circulation and patrons.
Presenters: Tim Spalding, Founder and CEO of LibraryThing, and Kristi Kennedy, TinyCat Support Specialist.
About LibraryThing: LibraryThing is a leader in social networking for readers and in software for libraries. LibraryThing.com counts over 2 million members who have cataloged nearly 115 million books. In addition to TinyCat, LibraryThing also offers libraries a suite of catalog enhancements through LibraryThing for Libraries. Learn more at LibraryThing.com and LibraryThing.com/forlibraries.
About TinyCat: TinyCat is the online catalog for tiny libraries. With free 30-day trials, affordable pricing, and online tutorials, adopting your own TinyCat has never been easier. Visit librarycat.org or email tinycat@librarything.com to learn more.
Upcoming NCompass Live events:

June 21 – Feelings are Messy: Building Emotional Intelligence in Libraryland
June 28 – The New NLA Intellectual Freedom Manual Comes to the Rescue
July 5 – PubMed, PubMed Central, MEDLINE, MedlinePlus…
July 12 – From Collections to Commons: How we turned stacks to student spaces at UNL
July 19 – Finding Your Focus: Tips for Early Career Success
For more information, to register for NCompass Live, or to listen to recordings of past events, go to the NCompass Live webpage.
NCompass Live is broadcast live every Wednesday from 10am – 11am Central Time. Convert to your time zone on the Official U.S. Time website. The show is presented online using the GoToWebinar online meeting service. Before you attend a session, please see the NLC Online Sessions webpage for detailed information about GoToWebinar, including system requirements, firewall permissions, and equipment requirements for computer speakers and microphones.