Do your dirty clothes and linens seem to multiply overnight? Do you never get to the bottom of your laundry basket? Can you hum the old Hoagy Carmichael tune, "Washboard Blues"? Do you know the F.B. Callahan lyrics? "Keep rubbin'–keep scrubbin'–keep tubbin'–keep drubbin' ole dirty cloes." Just imagine not having an electric washing machine and clothes dryer to do most of the back-breaking work for you.
The women who washed the clothes in the picture above probably had to rub, scrub, tub and drub the dirt away as in the song. Most likely using a corrugated washboard and a tub. Note that the backyards in this Omaha neighborhood didn't have lawns, flower beds, patios, grills, or other ornamentation–just clotheslines. (
Omaha Public Library
)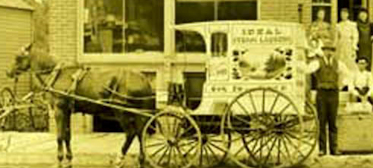 Not all women had to bend over a washboard, some would have had hired girls to do that heavy work while others who could afford it would send out the laundry to be done. Women had been "taking in washing" for centuries. But enterprising businessmen opened full-service laundries in a number of towns across Nebraska in the 1890s and early 1900s. In the photograph (from about 1895) at right, a horse-drawn delivery cart sports the name
Ideal Steam Laundry
located in Fremont. Women employees stand in front of the door while the man by the cart is probably the owner. (
Keene Memorial Library Collection
)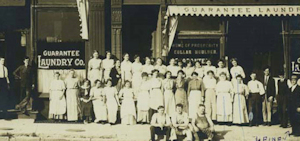 Working in a laundry was acceptable labor for women at that time, as you can see in the postcard at left, most of the Guarantee Laundry Company employees are women. Business must have been booming
with that number of employees. It also appears that it expanded from one building to two over time, and this was only one of several laundries in Omaha owned by Leonard Heine and his wife in the early 1900s. The photograph at right shows two of the Guarantee's first motorized delivery trucks in 1916. Note the size of the house in the background; the lady of this house definitely wouldn't be bending over a washboard. (Omaha Public Library Collection) Lincoln also had its share of laundries (not including dry cleaners or dyers and cleaners). The 1908 Lincoln City Directory listed seven laundries and two "Chinese laundries." In 1924, the number had increased to ten; 1930 also lists ten, but with a loss of one and a gain of another; the 1951 directory lists the first self-service laundries; and in 1960 the number of full-service laundries had dropped by half while the number of self-service laundries had quadrupled to twenty. People who wanted the convenience of fully automatic washers and dryers but could not afford their own had a place to go, while those who could have afforded to send their laundry out could easily purchase the machines to do their own.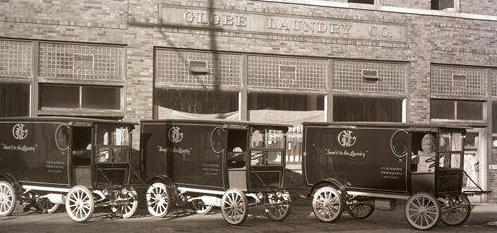 The Globe Laundry was one of the longest lasting Lincoln laundries. Listed in the 1908 City Directory at 330-340 S. 11th Street or the southwest corner of the block. The address by 1930 is reported as 1124 L Street placing it in the south center of the same block, possibly a new building was built in between times. Their building and neat delivery trucks at left, may have been at either location. This entire block was cleared in the 1980s for new development. (
Townsend Studio Collection
)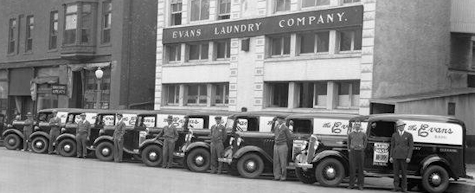 Another long-lived Lincoln business, Evans Laundry Company was located on North 12th Street, close to the University of Nebraska. The 1936 photograph at right shows nine of their delivery trucks parked in front of the southern of their two building with drivers standing at the ready. This block was cleared in 1986 for the building of the Lied Performing Arts Center. (Townsend Studio Collection)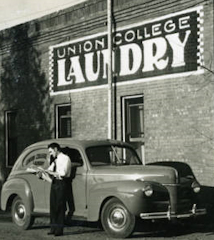 A third long-lived business, Union College Laundry was on the actual campus of Union College in College View, which was annexed by Lincoln in 1929. This laundry opened when the college was established in the 1890s to serve the students; however, it later became a commercial enterprise providing students with part-time jobs to pay their way through school. One employee was Eddie Holweger shown at left reading a newspaper while leaning against a delivery vehicle. (
Union College, Ella Johnson Crandall Memorial Library Collection
)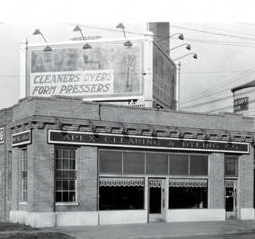 Items needing special care such as furs, hats, tie, and drapes could be taken to cleaners such as Apex Cleaning & Dyeing Company shown at right. While Peter Plamondon had opened the business with offices downtown several years earlier, the new office and main plant building shown at 123 S. 23rd Street was built in 1923. Notice the use of billboard advertising in 1928. This block was also cleared in the 1980s. (
Jane Pope Geske Heritage Room of Nebraska Authors Collection
) Visit
Nebraska Memories
to search for or browse through many more historical images digitized from photographs, negatives, postcards, maps, lantern slides, books and other materials. Nebraska Memories is a cooperative project to digitize Nebraska-related historical and cultural heritage materials and make them available to researchers of all ages via the Internet. Nebraska Memories is brought to you by the Nebraska Library Commission. If your institution is interested in participating in Nebraska Memories, see
http://nlc.nebraska.gov/nebraskamemories/participation.aspx
for more information, contact
Devra Dragos
, Technology & Access Services Director.