As mentioned in
Beat of a Different Drummer
, Lincoln had a thriving music scene at the turn of the twentieth century, and opera houses could be found in many small towns across Nebraska. How did they find performers before mass media or social media? Not all performers made their livings solely from performing. For an example, take a look at the career of 
August Molzer, violinist
, pictured above (from a promotional pamphlet in the
Donated Materials Collection
). Molzer was something of a local celebrity. Some years after moving to Wilber, Nebraska, from Bohemia as a boy of seven with his family, Molzer was sent back to Bohemia for musical schooling due to his aptitude for playing the violin. As noted in the promotional pamphlet, he studied under well-known musicians in the Prague Conservatory and performed well-received concerts in Europe. Upon his return to Nebraska, he taught music at both Nebraska Wesleyan University and the University of Nebraska School of Music in Lincoln. The pamphlet was printed and distributed by Nebraska Wesleyan University circa 1907.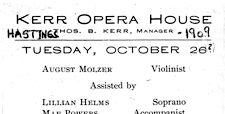 Two concert programs from the
Polley Music Library Collection
detail performances Molzer gave in Nebraska after the promotional pamphlet was produced. The program at left was for a concert at the
Shelby Opera House
given January 18, 1908, and the one at the right was for a concert at the
Kerr Operal House
in Hastings given October 26, 1909. Note in the Kerr Opera House program the other performers are also faculty of the Nebraska Wesleyan Conservatory of Music.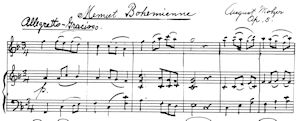 In addition to teaching and performing, Molzer also composed music. The Polley Music Collection also contains two
manuscripts of Molzer's pieces for violin and piano: the "
Menuet Bohemian
" at left and "
Rondo
" at right, both circa 1910.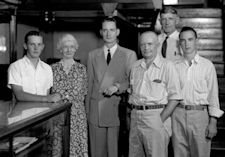 After teaching in Lincoln for nearly three decades, Molzer, his wife and their two youngest children moved to Laramie where he taught music at the University of Wyoming. However, it seems there was also music in the "heir", as Molzer's oldest son, Robert, remained in Lincoln where he later owned the Molzer Music Store. In the 1946
photograph at the right
, Robert is most likely the man dressed in a suit, standing with his employees (
Townsend Studio Collection
). In addition to selling music and musical instruments, employees repaired instruments as can be seen in
other store photographs
. Visit
Nebraska Memories
to search or browse for more advertising materials or other historical images digitized from photographs, negatives, postcards, maps, lantern slides, books and various materials. Nebraska Memories is a cooperative project to digitize Nebraska-related historical and cultural heritage materials and make them available to researchers of all ages via the Internet. Nebraska Memories is brought to you by the Nebraska Library Commission. If your institution is interested in participating in Nebraska Memories, see
http://nlc.nebraska.gov/nebraskamemories/participation.aspx
for more information, or contact
Devra Dragos
, Technology & Access Services Director.