Julie Hildebrand, Library Director, Independence Public Library (KS)
Keynote Speaker
I am an accidental librarian.  My background and education is in business, accounting, and computer science.  I have also earned a Certificate of Library Administration from the Kansas State Library.  I never would have believed I would be a librarian, but I have truly found my niche in life.  I started at IPL as the Public Services Manager in 2006, later became the Assistant Director, and in 2009 was promoted to Director.  As a librarian, I can use all of my experience, knowledge, and creativity to make a positive difference in people's lives, there isn't anything more rewarding!
Our library has just been named the 2012 Best Small Library in America!  It has been by changing our management style to a teamwork approach, creating partnerships within our community, and  taking risks in creativity that have allowed our library to use innovation to meet the needs of the public.  We have worked hard to change the view of our public library from an unfriendly, musty, book depository into and thriving community center where everyone is welcome to learn, socialize, and connect.
Jessamyn West – jessamyn.info (VT)
Magic Tricks and Maintenance: Helping the Public Learn Technology
Hi. I'm a technologist living in rural Vermont studying the digital divide and solving technology problems for schools and libraries. I'm good with computers and I like them. I think I can teach anyone to use a computer. My book Without a Net: Librarians Bridging the Digital Divide was recently published by Libraries Unlimited.
Jezmynne Dene – Director, Portneuf District Library (ID)
Working in the Cloud
Jezmynne Dene is the Director of the Portneuf District Library, located in Chubbuck, Idaho.  She has her bachelors degree in Southwestern History from the University of New Mexico and her masters in Library and Information Science from the University of Illinois, Urbana-Champaign.  She comes to Pocatello from the Claremont Colleges, where she served the Claremont community as a science librarian and head of the Sprague Science Library on Harvey Mudd College's campus.  Jezmynne is a patient and enthusiastic librarian and is active in her community.  She looks forward to increasing programming and social activities through the Portneuf District Library and by creating relationships between the library and other community initiatives for the greater good of all who live in the area.  Jezmynne enjoys bringing new technology and services into public libraries while balancing the needs the traditional public library provides.
Karen Mier – Plattsmouth Public Library (NE)
Helping Your Patrons E-Read

Karen Mier has been the Director of the Plattsmouth Public Library since March 2011.  Previously, she provided computer support to Ralston's Baright Public Library.  She has worked in public libraries and a healthcare library during her many years of library experience.  Her experience includes children's services, system administration/computer support, cataloging, reference, and just about everything in between.  She has been teaching classes on searching databases, Microsoft Office, Internet, and general computer concepts for over 10 years.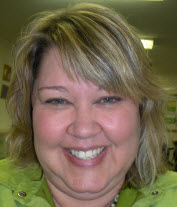 Diane Trinkle – Director, Nortonville Public Library (KS)
Gaming and Game Collection Development
Diane Trinkle is the library director at the Nortonville Public Library in Nortonville, KS, a small community with a population of 610. While studying to become a chef, she took what she thought would be a temporary position at the library. Ten years later, she cannot imagine doing anything else. Looking for ways to engage teens and tweens, Diane discovered during a focus group in 2006 that they really wanted video games in the library. On a tiny budget, she has managed to build a collection of several hundred video games, using creative methods. She will share her story, provide reasons why it better serves your community, and offer tips for building your collection.
Lauren Britton – Transliteracy Development Director at the Fayetteville Free Library (NY)
The FFL Fabulous Laboratory: Developing a Read/Write Culture in Your Library
Lauren Britton is the Transliteracy Development Director at the Fayetteville Free Library located in Central New York.  She earned her bachelor's degree in Art History and Anthropology from Muhlenberg College in 2005 and her master's degree in Library and Information Science from Syracuse University in 2011.  She is currently building the first makerspace in a public library, the FFL Fabulous Laboratory.  Her research and work is centered on new directions in public libraries and librarianship, with a focus on how emerging technology can be used as a catalyst for community collaboration and participation in a read/write culture.
Lindsey Hansen – City Librarian, Centerville Community Library (SD)
Combined School/City Libraries: Everyone Wins
Lindsey is the city librarian at the Centerville Community Library. She graduated from a high school in New Jersey and moved to South Dakota to attend South Dakota State University. At SDSU she received her B.S degree in Sociology with minors in Human Resources and Psychology. While attending SDSU she met her husband and after graduation moved to his home town in Centerville, SD. Lindsey became the city librarian in 2009. She enjoys the flow of her day working with patrons from the public and students in the school. Lindsey is currently working on her Certificate of Library Management through Northern State University and the SD State Library. She loves small town living, being with family and trying to keep up with her 17 month old daughter.
Linda Holmberg, School Librarian, Centerville Community Library (SD)
Combined School/City Libraries: Everyone Wins
Linda Holmberg is the School Librarian at the Centerville Community Library in Centerville, SD.  She recently celebrated her 35th wedding anniversary.  Linda and her husband Steven live on the Holmberg Homestead Farm, where they raised their four sons.  Linda graduated from Centerville High School and later received her Certificate of Library Management from the South Dakota State Library through Northern State College in Aberdeen.  She started working in the Centerville school system as a teacher's aide in 1994; in 2001 she took over the position of School Librarian.  Linda is thankful for the combined resources and sharing of duties and responsibilities with the city Librarian. She also enjoys spending time with family, especially her new grandson and friends.
Diane Althoff, City Librarian, Gregory Public Library (SD)
Community Partnerships
Diane is a city gal from western New York transplanted to rural South Dakota via her husband's first ministerial assignment in 1989.  Her love of books and frequent visits to her local public library led to her first job in library service there while she was in high school.  Since then she has worked in college libraries, school libraries and has started two church libraries.  In between reading and library work she acquired degrees and experience in nursing and in education as a classroom teacher and preschool director.  Since 2009, she has been serving in her dream job as city librarian in Gregory, South Dakota.    Diane is currently working on her Certificate of Library Management through Northern State University and the SD State Library.  She is enthusiastic about developing connections between the library and the community in order to increase awareness and use of the library's resources.  She loves life in South Dakota and enjoys sharing her love of reading with her three young grandsons.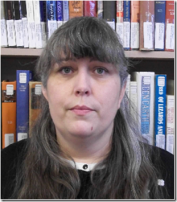 Karla Bieber, Director of the A.H. Brown Public Library (SD)
Community Partnerships
Karla Bieber is a busy wife and mother of four, who started her work in the library as a teenager.  Karla's first position in the library was as the student assistant.  She held this position for four years before graduating from high school.  After leaving the library to go on to vocational school, she did not believe she would work in the library again.  Fate had a twist for her many years later (after she was married and had two of her four children). The Children's Librarian she had worked with was retiring.  Karla returned to the library with A feeling of coming home as she started her second position at the library as the Children's Librarian.  After years in this position Karla applied for the position of Library Director when Ione Stiles retired. Karla is currently the Director of the A.H. Brown Public Library.  She is a 2010 graduate of the Library Training Institute coordinated by the SD State Library.