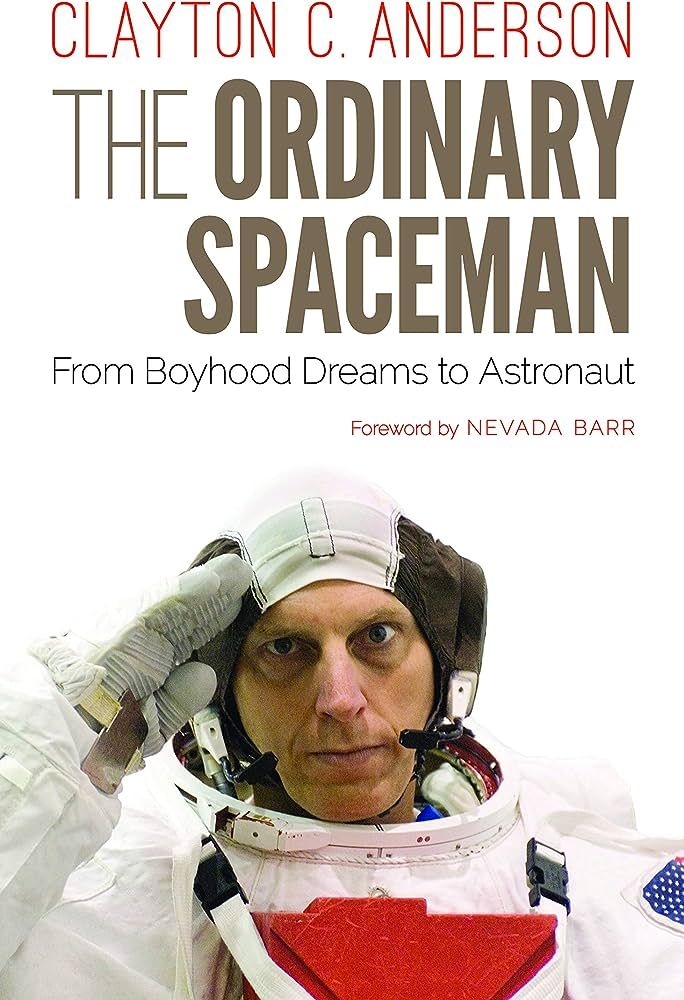 Four years after what would be his final voyage into space, retired astronaut Clayton Anderson of Ashland, Nebraska, released his tell-all memoir of his 30 years at NASA, comprising 167 days living in space, working on the International Space Station and performing nearly 40 hours of spacewalks. Now, when I say this is a "tell-all" memoir, I don't mean it in a way to dramatize or bring to mind a TMZ article. I mean it literally. Because today, our Book Club Spotlight The Ordinary Spaceman, is genuinely one of the most unflinchingly honest, funny, and candid stories about what it takes to be a NASA astronaut. Anderson's insistence on being "an ordinary guy" might feel strange when reading a book by someone who has been to space, but it's also his wholehearted truth. 
Clayton and his mother have different ideas about when he decided to be an astronaut. He argues it started with watching the Apollo 8 mission at the age of nine, and his mom, however insists the dream was always apart of him. A proud and true Nebraskan, Clayton made his way to Texas, working at NASA as an engineer, and eventually leading the development effort for the ISS's Caution and Warning System, all the while continuing to pursue his dream of spaceflight. Clayton applied to the astronaut program 15 times before finally being selected, and that was only the beginning. From recalling his first time breaking the sound barrier, freezing during survival training in the Russian wilderness, needing stiches while working in an undersea lab, and tragically witnessing the Columbia disaster alongside the crew's families, Anderson is incredibly open and humble about his experiences during his time in and out of space, even when he finds himself in the wrong. Through stories of incredible isolation and excitement, frustration, and an ever-evolving sense of respect for others,, Anderson doesn't hide his emotions in his writing, and takes us through his personal growth as a man, an astronaut, and in his faith. All while mixed in with a healthy dose of humor and sincerity that brings the reader close and holds tight until the very end.
Though a new addition to our Book Club Collection, The Ordinary Spaceman was awarded the Nebraska Book Award in 2016 for Creative Non-fiction, and after having lived in Texas 30 years, his home state is still very much a part of his identity, and it is clear how proud he to represent Nebraska as its first astronaut. From shaping his personality to his love of all things huskers, any Nebraska reader will feel at home reading his words and shaking their head at his (sometimes) crass humor, wondering if they have what it takes to go to space. 
To this day, Anderson is a passionate STEM advocate and NASA Ambassador, and recently in 2022 he became the President and CEO of The SAC Museum in his own hometown. For him, being an astronaut is just as much about being a role model as it is about flying in the stars. Because of him, for the majority of my life, there has always been a Nebraskan Astronaut. Looking back on it now, I wonder how many opportunities were provided to me and my peers because of Anderson's perseverance as a role model and science educator, especially to the kids of Nebraska. I even had the opportunity to meet Anderson when he was a guest speaker at the LPS-Pfizer Science Fair in 2008. Fresh off his 5-month tour on the ISS, Anderson was a pretty big name, even for us ambivalent 5th graders. I still remember seeing his big grin as he looked over the crowd of us youngsters in our science fair t-shirts and thinking about how strange it was that astronauts were just ordinary people like us. And now I know he felt the same!
The Ordinary Spaceman is one of four books by Anderson. He has written two children's books: Letters from Space and A is for Astronaut, and a YA book: It's A Question of Space.
"This journey is not just about technical achievements; it is about people. It is about our planet; it is about the future of the entire human race. What began from an era of competition, fueled by the launch of Sputnik forty years ago, has now become the ultimate challenge of cooperation and teamwork. This is what we owe our children and all future generations. I want to help "line the way"!"

– Anderson 1998
If you're interested in requesting The Ordinary Spaceman for your book club, you can find the Request Form here. There are 10 copies available. (A librarian must request items)
Anderson, Clayton. The Ordinary Spaceman: From Boyhood Dreams to Astronaut. University of Nebraska Press. 2015