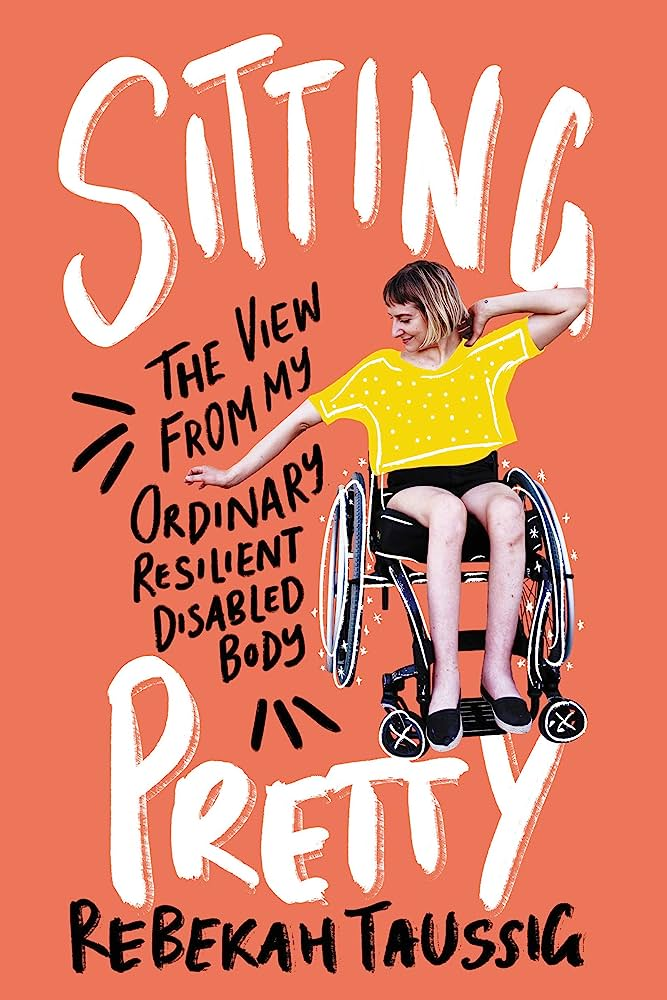 Summer is a great time of year because we get to celebrate so many wonderful communities. First, there is LGBTQ+ Pride and Juneteenth in June, and then now, in July, it's Disability Pride Month! This month is a time to honor and celebrate the disability community, their history, and their achievements while also acknowledging their struggles on the anniversary of the passing of the Americans with Disabilities Act. Today's Book Club Spotlight, Sitting Pretty: The View From My Ordinary Resilient Disabled Body by Rebekah Taussig, encompasses disability pride wholeheartedly. Dr. Taussig, who holds a doctorate in Creative Nonfiction and Disability Studies, currently works as a writer and teacher, focusing on "disability representation, identity, and community."
Sitting Pretty is a memoir in essays focusing on Dr. Taussig's experience as she navigates the world in her disabled body. When Taussig was four months old, cancer attacked her spine, leaving her paralyzed from the waist down. By age two, Taussig is cancer-free and going about her life as any other kid would; only after noticing how disabled people were portrayed in media and movies (The Hunchback of Notre Dame, Forrest Gump, etc.) did she realize she was different. Seeing how disabilities were represented, mocked, and othered, she learned to resent her body and the special accommodations it needed. Throughout her life, Taussig has had to work immensely hard to unlearn all the negatives she was taught about her body and handle people treating her differently because of her disability, from teaching her first class to navigating how strangers want to comment on her love life. In the essay Feminist Pool Party, Taussig struggles with the ethics of making room in the conversation for disabled people. She wonders if she is a "good enough advocate" or is "too privileged" to be the one talking about it in the first place. But like with any minority group or life experience, no one person encompasses every aspect of the culture. All that matters is that the voice is there, to begin with.
Books like Sitting Pretty are essential for a multitude of reasons. They teach empathy, humanize a group that is often dehumanized or vilified (i.e., Captain Hook), and raises our awareness of stories unlike ours. And, as Taussig points out, disability can happen to anyone at any time. Car accidents, illness, and normal aging processes are all disabling events, and accessibility focusing on disabled people can only help us in the long run. Book Clubs and Groups shouldn't shy away from stories like these. While Taussig's knowledge and ideas come from a place of well-researched and thoughtful academia, her language and ideas are accessible to anyone and show a nuanced approach to the societal "otherness" placed on disabled people. Group discussion will benefit from being able to talk about these themes together and share their own experiences with disabilities, the disability community, or any moment of "otherness" felt from inaccessibility or social stigma.
The reason we are able to hear stories like Taussig's is because of the amazing disability advocates that came before us. The biggest demonstration that helped spur the passing of the ADA is known as the Capital Crawl in 1990, where about 1000 people with disabilities took to the US Capital, and many, without their mobility devices, crawled up the steps as a physical demonstration of inaccessibility. The youngest activist to participate in the crawl, eight-year-old Jennifer Keelan-Chaffins, has since continued her advocacy, and her illustrated children's biography All the Way To The Top will be featured this summer through the National Library Service Summer Reading Program!
"So happy disability pride in every flourish and form. Here's to knowing in our bones – we deserve to be here, too. We are a vital part of all this. The world might still act like you're holding things up or making things too complicated. But know – you are the best part. You are the piece that changes the whole f- game.

– @sitting _pretty
If you're interested in requesting Sitting Pretty for your book club, you can find the Book Club Kit Request form here. There are 11 copies available. (A librarian must request items)
Taussig, Rebekah. Sitting Pretty. HarperOne. 2020.