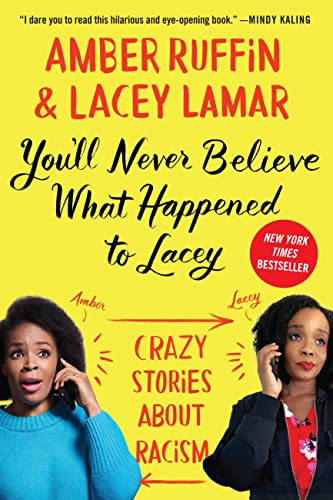 Yesterday (June 19th) was the second time in Nebraska's history that Juneteenth was celebrated as an official state holiday. And to honor the celebrations, today's Book Club Spotlight features Nebraska Native and host of her own Peacock late-night talk show, Amber Ruffin! Ruffin has talked extensively about Juneteenth, its history, and misconceptions in a fantastic segment on her show called How Did We Get Here, which is absolutely worth the watch. Ruffin has had an incredible career as a comedian, writing for Seth Meyers, the Golden Globes, and of course, The Amber Ruffin show. Her book, You'll Never Believe What Happened to Lacey, co-authored with her sister Lacey Lamar, a worker in the health and human services field, consists of short but absurd stories recounted by Lamar of racism, from micro to macroaggressions in their hometown of Omaha.
You'll Never Believe What Happened to Lacey is a collection of real stories told by Ruffin and Lamar, primarily focusing on Lamar's life as a Black woman in Omaha and the unintentional (or intentional!) racism that she faces daily. While Lamar's stories can get pretty bleak, the book's goal is not wholly serious. The stories are wild and addicting, and it's easy to get sucked in and finish the book in one sitting. The sisters are natural comedians who bounce off each other like they're gossiping with you about a ridiculous thing that happened to them while getting your nails done together. And that's part of the goal! To show the absurdity of racism when it's filed down to the smallest moments of touching a Black woman's hair to being stopped by the police for skipping down the street. Even the smallest moments build up over a lifetime of experience and paint a larger picture of racism that's normalized in our culture. 
Picked as the 2021 Omaha Reads title, the goal of You'll Never Believe What Happened to Lacey is different for each reader. For white readers, Ruffin hopes they will walk away with a new perspective on what it's like to be a modern Black American. And she hopes Black readers will recognize themselves and know they're not alone. It is both parts, a book of revelation and validation. Their second book, The World Record Book of Racist Stories, is a collection much like You'll Never Believe. It includes stories from their parents, siblings, and other family members to bring even more laughs and gasps of horror from the wildest things people say and do.
If you're interested in requesting You'll Never Believe What Happened to Lacey for your book club, you can find the Book Club Kit Request form here. There are 7 copies available. (A librarian must request items)
Ruffin, Amber; Lamar, Lacey. You'll Never Believe What Happened to Lacey. Grand Central Publishing. 2021.