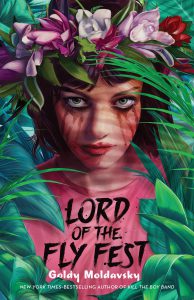 What would happen if you lured all the Instagram beauty influencers to a tropical island with the promise of music, luxury accommodations, and access to other beautiful people… and then left them stranded without food, electricity, and gasp, WiFi? Small-time podcaster Rafi Francisco is about to find out. Shelling out her meager life savings for a ticket to the Fly Fest, an exclusive island festival where she hopes to score a chance to dig up some dirt on a famous performer, Rafi instead finds herself stuck on the beach with a bunch of spoiled and increasingly dirty trust-fund kids who have mistaken her for staff. But there is no staff. No staff, no gourmet meals, no private villas, no music festival…and no way to get in touch with anyone off the island that can rescue them.
If this sounds a lot like a recent island festival scandal that resulted in fraud charges and felony convictions, you are not mistaken. Described as "Lord of the Flies meets Fyre Festival" the setup is not as unlikely as you'd hope.
Rafi recognizes that the situation will quickly become dire and tries to rally the festival-goers into working together to find food and shelter, while still trying to secretly investigate her podcast subject. But she soon finds herself up against a prominent makeup guru who has deluded himself and an increasing number of others that the festival has not been canceled; the promoters are just testing the attendees to see if they are worthy of such an experience. Will reason prevail? Or will Fly Fest end in #disaster?
A quick YA read, it's a good reminder that everything you see on social media is not as perfect as it appears.
Moldavsky, Goldy. Lord of the Fly Fest. Henry Holt & Co., 2022.