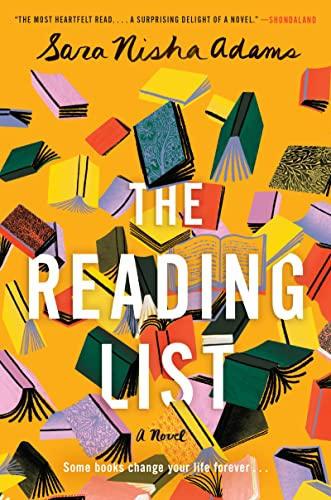 I'm sure you're all as excited for
National Library Week
(April 23rd-29th) as I am, so I'm giving you plenty of time to get pumped up with today's Book Club Spotlight, which perfectly captures this year's theme: "There's More to the Story." Libraries are community centers and technology hubs and contain many other resources available for everyone and anyone. And
The Reading List,
by debut author Sara Nisha Adams, is all about how libraries are much more than what they carry on the shelves.
We follow two reluctant readers: Widower Mukesh, who, upon reading an old library book left by his late wife, finds comfort and solace in the characters who help the memory of his wife live on. Energized by the experience, Mukesh decides to make an effort to connect with his shy granddaughter through her love of books—leading him to a small Wembley library. In the library, we meet Aleisha, a disillusioned but whip-smart teen working in the slowly dying library over the summer to support her sick mother. Aleisha has no particular love for libraries or books until she is handed a mysterious list of books titled "Just in case you need it." Inexplicably drawn to reading the first on the list, To Kill a Mockingbird, Aleisha encourages Mukesh to read it as well. Soon they are both making their way down the list and are surprised to find how much they want to talk with someone about the books or maybe just to talk with someone at all. Much like the Sisterhood of the Traveling Pants, the titular "list" in The Reading List serendipitously makes its way across London, finding people who could use a break or a breakthrough. When tragedy strikes, the group's bond and the lessons they learned from the mysterious reading list and each other become more important than ever.
New to our collection, The Reading List is the perfect book club pick because it centers around characters who inexplicably find themselves in a far-reaching book club. In the beginning, Aleisha and Mukesh are nervous about discussing the books themselves, feeling like they need to be some sort of expert or have an earth-shattering revelation to be worth sharing. Still, as time goes on, they gain confidence in sharing their ideas. While each book might not be the ideal fit, they still find something to discuss and enjoy. The idea of the modern-day book club started as an avenue to encourage open discussion, and they still play an essential role in expressing that inherent want to connect (but I may be biased). People are always looking for connection and community; reading and hearing others' stories and struggles makes us more open, compassionate, and self-confident. Unlike other "books about books," there is no magic library or all-powerful novel in The Reading List. Instead, there is simply the magic and importance of people. And at the end of the day, the people and their community are the most critical asset to libraries.
Request The Reading List for your Book Club here. There are 5 copies available (A librarian must request items)
Adams, Sara Nisha. The Reading List. William Morrow. 2022.