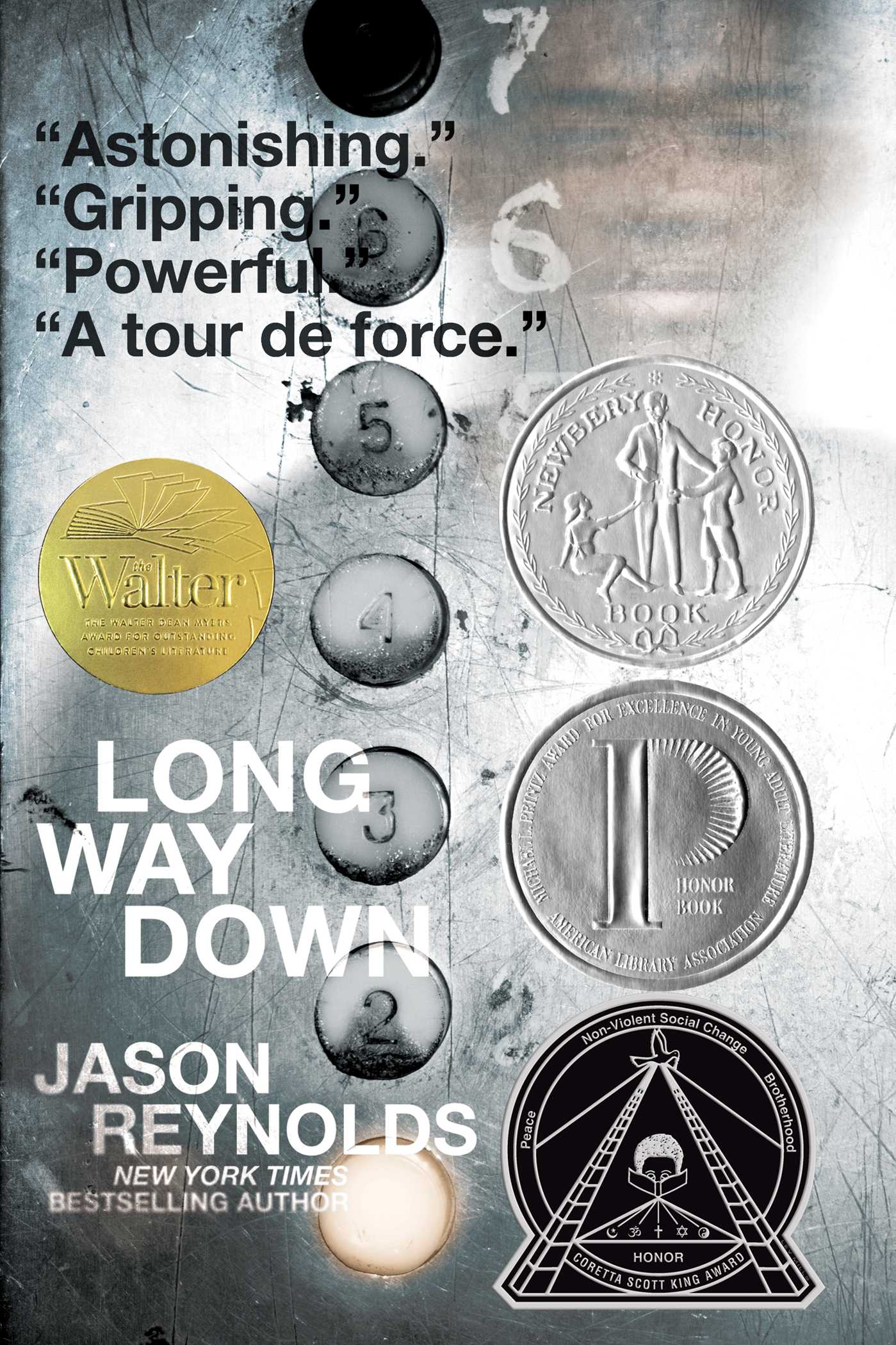 It's our first Book Club Spotlight of Black History Month, which means this month, we're showcasing books by incredible authors to celebrate Black Voices in literature. Today's author, Jason Reynolds, is the recipient of awards such as the NAACP Image Award and multiple Coretta Scott King honors and was the 2020-2022 National Ambassador for Young People's Literature. Reynolds encourages us not to see the genre of YA as limiting, enjoying the freedom of emotion young people carry to tell good stories. Today's spotlight, recipient of the Printz and Newbery Honors, Long Way Down, is written in free verse, through snippets of dreams and recollections, as a young boy is visited by the ghosts of his past.
After witnessing his brother's murder, Will knows what he has to do. Follow The Rules.
1) Don't Cry 2) Don't Snitch 3) Get Revenge.
He doesn't know who created The Rules and when, but he does know that it's his duty to follow them. Because he knows, or at least he thinks he knows, who killed Shawn. Will finds his brother's hidden gun, gets on the 8th-floor elevator and presses L. As Will goes further down the elevator, he is visited by those who are gone because of the same Rules he is now going to follow, and he is given a chance to either continue the cycle or break it apart. 
For ages 12 and above, Long Way Down skillfully employs free verse to weave together an unforgettable story about the cycle of violence, especially in how it affects urban and Black communities. Reynolds prefers not to shy away from realism and challenging topics in his novels because the kids reading them have experienced or will experience the same situations in real life. Reynolds, himself, almost fell victim to the cycle when he was younger, and he uses his real-life experiences and emotions to cut to the core of why violence like this continues to happen. Much like Will's elevator ride that only takes sixty seconds, but lasts a whole novel, reading Long Way Down, can be taken at whatever pace is comfortable to the reader's skill level. And as violence in schools continues to be a constant fear, there will be plenty for young reading groups to discuss as the floors tick by.
If you're interested in requesting Long Way Down for your book club, you can find the Book Club Kit Request Form here. There are 10 copies available (Items must be requested by a librarian)
To read more by Jason Reynolds, check out his Track Series, or, The Boy in the Black Suit (One Book For Nebraska Teens 2019).
Reynolds, Jason. Long Way Down. Atheneum. 2017.