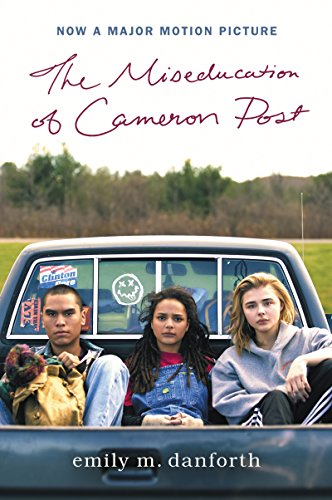 The Miseducation of Cameron Post is a quiet atmospheric story that takes the reader through the formative years of the titular Cameron as she comes into herself as a person and as a lesbian. Written as the dissertation for her Ph.D. at UNL (co-directed by author Timothy Schaffert and the late Gerald Shapiro), emily m. danforth was inspired by sentimentalist women's literature, stories of teens being sent to religion-based conversion therapy camps, and her own upbringing in Miles City, Montana. Published three years before the federal protection of same-sex marriage, Miseducation's impact on normalizing queer culture and issues is phenomenal, especially in how it honestly approaches teens and their families in the discovery and acceptance of their sexuality.
Growing up in early 90s Montana, Cameron Post did her best to keep her head down, not wanting anyone to look further than her "wise-cracking orphan" façade. But, if anyone started to look too closely, they would see she was in hiding. Hiding her feelings for other girls. Detailing her loves and loves lost while fogged in religious guilt pushed on her by her ultra-religious aunt, Cameron learns how to keep her true self out of sight. Betrayed and forced out of the closet, the looming threat of being sent to conversion therapy camp becomes a reality. Cameron must endeavor against those who want to change her and find solidarity amongst the powerless teens also caught up in the mess of religious zealotry and homophobia. Cameron's story is, of course, a "miseducation" at its core. She isn't some unachievable, idealized-perfect person, and she shouldn't have to be. Finding yourself is not easy; you have to be prepared to face what finds you in return.
Perfect fans of The Perks of Being a Wallflower and John Green, The Miseducation of Cameron Post is appropriate for mature teen and adult book groups. It approaches complex topics with care and empathy. Because it takes place in the 90s, some language is out of date, which opens up room for an interesting group discussion on how we have treated and talked about LGBTQ+ issues and if Cameron's story would be different if she were a teen today. danforth has the skill to give her characters space to tell their own stories rather than focusing on teaching us a lesson or a hard-hitting moral. Like life, Miseducation revels in its slow pacing. The book is a long scenic road to get where it wants to be. Only a few chapters in, and it feels like you have known Cameron forever.
And if your reading group is interested in a movie night, the 2018 movie adaptation of Miseducation won the Sundance Film Festival Grand Jury Prize for the U.S. Dramatic category. I watched it this weekend, and it was incredible. From a review of the movie in the New York Times: "Miseducation is neither a glib sendup of a less enlightened era nor a pious reckoning with the bygone injustices of the past. It is more interested in how its characters feel than in what they might symbolize, and in how they grapple with the conflicting demands of faith and desire. It's also about the struggle between earnest young people and the equally earnest, painfully misguided adults who are trying to save their souls".
To see more of our LGBT+ & Queer book club titles, visit the link here.
If you're interested in requesting this book for your book club, you can find the Book Club Kit Request Form here. There are 10 copies available (Items must be requested by a librarian)
danforth, m. emily. The Miseducation of Cameron Post. HarperCollins. 2012.