AARP is currently soliciting applications for 2023 funding for quick-action projects that can help your community become more livable for all residents, especially those age 50 and over.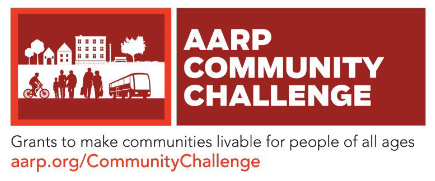 Applications are due by March 15, 2023, 5:00 p.m. ET, and all projects must be completed by November 30, 2023. Applications must be submitted through http://www.aarp.org/communitychallenge , where you will also find full details about the grant program.
These grants are open to the following types of organizations: 501(c)(3), 501(c)(4) and 501(c)(6) nonprofits; Government entities; Other types of organizations considered on a case-by-case basis. AARP Community Challenge grants may be used to support three project types: Permanent physical improvements in the community; Temporary demonstrations that lead to long-term change, and New, innovative programming pilots or services.
Examples of previously funded Community Challenge Projects include:
Hazen (ND) Public Library: The library basement where there are meeting rooms and where a local arts association rents space was inaccessible and underutilized for community meetings. The library used grant funds to install two chair lifts in the two stairwells to ensure residents can safely attend community meetings at the library.
Avoca (IA) Public Library: The AARP Community Challenge grant funded the city's new "music park" outside of the public library. The location's oversized, weather-proof instruments require neither training nor talent to play. During the summer, Avoca closes its main street for a weekly farmer's market. The instruments provide a stay and play area that encourages people to spend time creating music outdoors and enjoy the downtown.
In 2023, the AARP Community Challenge is accepting applications across three different grant opportunities, two of which are new this year. Organizations are eligible to apply for more than one grant opportunity and may submit multiple applications.
1. Flagship Grants
Flagship Grants continue the successful Community Challenge grant program, first launched in 2017. Flagship Grants have ranged from several hundred dollars ($500) for smaller, short-term activities to tens of thousands of dollars ($50,000) for larger projects. These grants offer a broad opportunity for communities to apply for funding across several project categories:
Public Places
Transportation
Housing
Diversity, Equity, & Inclusion
Digital Connections
Community Resilience
Civic Engagement
Community Health and
Economic Empowerment
2. NEW! Capacity-Building Microgrants
By combining $2,500 grants with additional resources — such as webinars, AARP Livable Communities publications, cohort learning opportunities, and/or up to two hours of one-on-one coaching with leading national organizations — this new grant opportunity will benefit residents (especially those age 50 or older) in the following categories:
3. NEW! Demonstration Grants
Demonstration Grants are designed to encourage innovative replication of promising local efforts, drawn from previous projects from the Flagship Grants in Housing and Transportation. This new grant opportunity will benefit residents (especially those age 50 and older) by:
Advancing solutions that build capacity towards transportation systems change. This opportunity for grant funding of $30,000 to $50,000 per project is sponsored by Toyota Motor North America.
Implementing accessory dwelling unit (ADU) design competitions that increase public understanding of this housing option and encourage the implementation of ADU supportive policies. This opportunity for grant funding will provide $10,000 to $15,000 per project.
For more grants like this one, check out the NLC's Grant Opportunities for Nebraska Libraries.