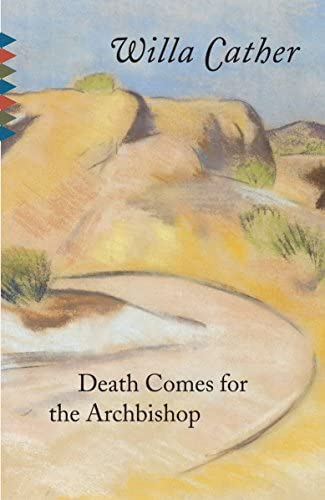 A new year means new books will be entering the public domain! According to copyright laws, works originating in 1927 will now be free for all to share, use, and create new stories with. For example, last year, the original Winnie-the-Pooh books by A.A. Milne entered the public domain, leading to a new horror movie featuring the characters. So now, in 2023, we have a whole new set of stories to look out for, and today we'll be talking about one in our very own Book Club collection. Death Comes for the Archbishop is Willa Cather's re-telling of the lives of Roman Catholic clergymen Jean-Baptiste Lamy and Joseph Projectus Machebeuf as they establish a diocese in the U.S. New Mexico Territory in the 1800s. Cather, preferring to call it a "narrative" rather than a novel, wrote Death Comes for the Archbishop as a cluster of vignettes, legends, and stories surrounding the fictionalized Southwest and how the Catholic Church came to shape the region. But don't let that frighten you; her book isn't that of religious zealotry but of the people.
Father Jean Marie Latour, a French Jesuit priest, has been sent off to be the Vicar and Bishop of the newly American-owned New Mexico territory. He, with his close childhood friend Father Joseph Vaillant, attempts to serve their diocese, which often descends into disarray with the Mexican and Native American population content to perform religion in their own way due to the prolonged absence of a Vicar. The men, unused to the harsh New Mexico region, but earnest in their faith, meet and grow fond of their parishioners in the American Southwest, painting a knowledgeable and sympathetic portrait of the times and the people. The intelligent and philosophical Father Latour is open-minded about other cultures and finds human love at the root of his faith. At the same time, his abrupt friend Father Vaillant is much more direct in his faith and actions, which often leads to a more closed-minded approach. Because of this, the two, though immensely fond of each other, find themselves at odds in their passions. Vaillant's often taking him away on evangelical missions, all the while Latour's passion keeps him close to home, cultivating deeper bonds there but missing his partner. Together and apart, they explore the vast New Mexico territory, expanding their faith and assisting those in their care.
Death Comes for the Archbishop is a quiet and reflective narrative that celebrates communities and cultures coming together while still holding onto their traditions. Not Catholic herself, Cather shows a gentler depiction of religion than her typical portrayal and how it can build a community of not only faith but trust and security. She does not portray the church or even the priests in the novel as perfect but as humans who want to do their best for their parishioners and God. Father Latour is wholly human, makes mistakes, and has his own prejudice, but he never looks down on another person; he advocates for the rights of the Navajos, Mexicans, and all people in his diocese. While the more brash Vaillant is more prone to prejudice, he has his own deep connections in the community as well. And everyone, especially the women, is treated kindly and with reverence, and any biases the priests may have do not bleed into the narration overall. Of course, being a Willa Cather book, any Nebraska book club will have a great time reading one of her classics. Readers will find discussion topics in the many vignette parables scattered throughout the book. While some phrasing or ideas are old, the novel still holds up in its earnestness and love for all people. Modern audiences and book groups will appreciate the sympathetic acknowledgment of the Native and Mexican people whose homes are displaced by white intruders and see how our modern ideals have or have not changed.
To see this year's list of copyrighted works entering the public domain, visit the link here!
If you're interested in requesting this book for your book club, you can find the Book Club Kit Request Form here. There are 5 copies available (Items must be requested by a librarian)
Cather, Willa. Death Comes for the Archbishop. Alfred A. Knopf, Inc., 1927