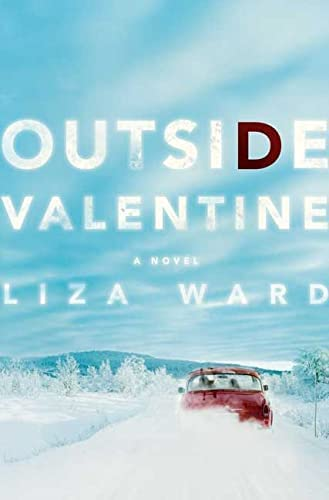 For 60 days in the winter of 1957-1958, Charles Starkweather and Caril Ann Fugate raced across Nebraska and Wyoming, leaving 11 dead in their wake. As one of America's most infamous and widely-reported killing sprees, Starkweather and Fugate are immortalized through movies, music, and literature. And Liza Ward, the granddaughter of two victims, Lauer and Clara Ward, decided it was time to tell the story from a new perspective. Her 2004 novel Outside Valentine is the story of her family and the trauma that has consumed it for generations. But instead of focusing on the notorious Starkweather, this novel takes a step back, concentrating on Caril Ann and those he left behind in a stunning re-telling of what happened that winter. 
Outside Valentine is a fictional account of the Starkweather killing spree, following the three narrators simultaneously. One narrator, Caril Ann Fugate, is a disenfranchised impressionable 14-year-old who finds solace and a desperate love with 19-year-old Charles Starkweather. Their romance soon burns too hot when he takes Caril on a joyride, murdering her family and anyone found in the way of that love. Four years later, the story follows Susan Hurst, who finds herself obsessively reading about the killing spree, envious of the pair's violent love. Desperate for this kind of love and recognition, she lives a lonely life with her emotionally distant parents, all the while harboring a secret obsession for the surviving son of the Bowmans (the fictionalized Lauer and Clara Ward), whom she has never met. The son, Lowell Bowman, is our third narrator, who, 30 years later, is still dealing with the aftermath of the tragedy. Unable to cope, he runs away from his wife and children, both from and to his past.    
Outside Valentine is an engaging and lyrical read that isn't quite "true crime" but still has that thrilling air. Because the story takes place over 30 years, the reader follows how Fugate and Starkweather's actions spiral bigger than just themselves. Ward creates an atmosphere that sucks you in so deeply and wholly that you forget where you are. And the stark winter setting makes this a perfect book club selection coming into the colder months. Book club groups, especially those here in Nebraska, will find plenty to discuss in how Ward uses the setting to instill her characters with deep longing and isolation. She does an incredible job of identifying the true loneliness of being a young girl and the dark side of romanticism. 
While both were found guilty and Starkweather sentenced to death, Caril Ann Fugate spent 17 years in prison on a murder conviction before she was paroled in 1976. In 2020, With her father's support, Liza Ward advocated for Fugate's pardon, believing her grandparents "would want people to know the truth," and that it is "time to show that young girl's stories are worth being listened to." And she gives young girls that opportunity in Outside Valentine. 
If you're interested in requesting this book for your book club, you can find the Book Club Kit Request Form here. There are 12 copies available (Items must be requested by a librarian)

Ward, Liza. Outside Valentine. Picador. 2004.