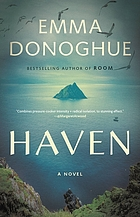 Before the pandemic, Emma Donoghue took a boat trip around Skellig Michael, an island off the Southwest coast of Ireland. Also known as Sceilg Mhichíl, the island became a UNESCO World Heritage site in 1996—but you might more likely know it from a little film called The Force Awakens, episode seven of the Star Wars franchise. Before Donoghue could actually set foot on the island on her second trip, travel restrictions went into effect, and she finished her research and wrote this book before visiting it again.
Haven is a fictionalized account of an early attempt to set up a monastery on the island. Three Irish monastics, who all had different paths to the religious life, set out on a boat from the Irish mainland around the year 600 to found a new holy order on the skellig. The island is both abundant and sparse, an allegory for the faith of the travelers. Donoghue goes into fascinating detail of the natural world of the island, especially the bird life, and fans of nature writing will appreciate this immersion into the physical world of the island. While the monks have different ideas about how to interact with the natural world, two of the monks, Cormac and Trian, have vowed to obey Artt, whose vision has brought them to the island. Artt's faith, more educated and intellectual, is served well by a monastic life—but not by a natural life.
The struggle for survival, both physical and spiritual, is heart-wrenching and transformative. The narrative is both claustrophobic and expansive, which might sound like a familiar feeling to fans of Donoghue's most famous work, Room. There are lessons for the characters, and so for the readers, about faith, about stewardship, about vulnerability and acceptance—as well as about which freedoms and responsibilities we embrace, and turn over, and perhaps wrestle back.
Here's a fun article about how there are so many birds on the island, that when filming that Star Wars movie, it was easier to create a new monster to CGI over the birds: Porgs!
Donoghue Emma. Haven : A Novel. First ed. Little Brown and Company 2022.