The Four Winds is a historical novel with true to life elements from a period of deep despair. Kristin Hannah's book is about hard times, America in the 1930s – the Great Depression, the Dust Bowl, with millions of people unemployed and struggling to meet day-to-day needs. It is a book about survival, family relationships, courage, and endurance.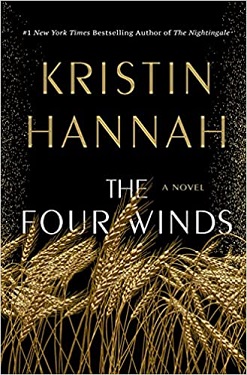 The Four Winds reminded me of John Steinbeck's The Grapes of Wrath, a book I read many years ago and among the most disturbing I've ever read. In Hannah's book, it is the Martinelli family. In Steinbeck's, it is the Joads.
The Four Winds is told mostly through the eyes and voice of Elsa Martinelli. The story begins in the Texas Panhandle, a rural community – a typical small town with surrounding farms. The story moves from the prosperous times preceding the Great Depression to years of poverty and hardship as drought and dust storms transform millions of acres of landscape and turn the economy upside down. Martinelli, married with young children, struggles to overcome life-robbing elements. Family relationships are tested. There is betrayal, and there are strained relationships between Elsa and her headstrong teenage daughter Loreda. Tension grows with the seemingly never-ending drought and the prospects of leaving the farm to join the thousands migrating westward for a perceived better life in California.
Readers describe the book as depressing, but it presents a compelling and difficult to forget story. Libraries and librarians contribute to the story, and in a positive way.
The audiobook (Macmillan Audio) includes an interview with Kristin Hannah and skilled narrator Julia Whelan. The interview offers interesting and helpful historical background – the author's research and approach to writing the novel, and the narrator's preparation and narration methods.
Among Kristin Hannah's books are the notable The Nightingale, The Great Alone, and Winter Garden.
Hannah, Kristin. The Four Winds: A Novel. William Morrow. 2021.