Imagine yourself in lovely Victorian-era England with grand homes, elegant balls, and a large steam powered dirigible school floating by.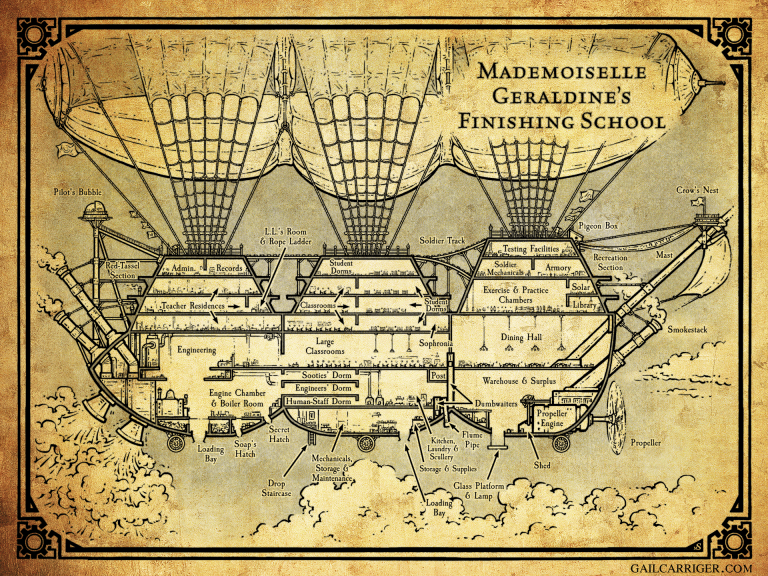 Wait…what?
The Finishing School Series by Gail Carriger is an absolutely lovely young adult series that follows one Miss Sophronia Temminnick through her time at Mademoiselle Geraldine's Finishing Academy for Young Ladies of Quality. Classes include "Fainting in a crowd to attract attention" and "Buying poison and planning dinner on a limited budget".
Hold on! What?
As the books progress we're taken out of Mademoiselle Geraldine's Finishing Academy into the greater world. In Scotland we're introduced to Sophronias friend Sidhegs pack, her grandfather and uncles, all of whom are werewolves. And to London where the vampires are trying to undermine a plot they just know the Picklemen are trying to run against them.
STOP!!!! WHAT IS GOING ON HERE?!?
I absolutely love this series! The fantasy elements are done in such a way as to seem completely plausible and familiar. This is neither a dystopian set of novels, which seem to be so popular these days, or a "princess in need of rescuing" story. These girls can take care of themselves thank you very much! Not a fan of YA? Most of Gail Carrigers other books all take place in this same lovely world but are decidedly not YA.
Oh! I almost forgot my favorite part – the mechanicals! Simple household type tasks are carried out by these steam and gear-powered robots. Sophronia happens upon one, which happens to look like a dachshund, early on in the series whom she eventually carries around like a purse. Isn't that just the cutest thing?