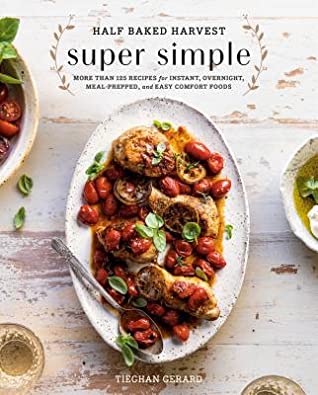 As we seem to be jumping right into winter weather this week, it's the best time for soups, comfort foods in general, and so much baking.
Tieghan Gerard's Half Baked Harvest Super Simple is my current favorite cookbook with "more than 125 recipes for instant, overnight, meal-prepped, and easy comfort foods." Recipes like browned sage-butter chicken pot pie" (p. 172) or broccoli cheddar soup (p. 94) are perfect for cold, rainy/snowy weeknights.
The recipes are divided into: basics, breakfast and brunch, appetizers and sides, salad and soup, pizza and pasta, vegetarian, poultry and pork, beef and lamb, seafood and fish, and dessert. Each recipe fits on a single page with a short personal note from Tieghan (such as growing up in the Ohio and her love of Top ramen which has now become a more "grown-up" version with garlic-butter noodles). She includes different instructions for cooking on a stovetop, pressure cooker, or slow cooker, as well as ingredient alternatives. The recipes are intended to be fairly easy to make without a long list of ingredients. Some recipes include premade or store-bought items, like her Blondie Brownie Bars (p. 274) which includes a boxed brownie mix or the Creamy Chicken Gnocchi Soup (p. 91) which includes a box of mini potato gnocchi. But some days, there's just not time to make everything from scratch and the recipes make them super delicious. (She also has a five ingredient hazelnut brownie recipe or cinnamon rolls with chai frosting which are both incredibly easy and wonderful.)
Along with the recipes, the photography in this book is gorgeous. The book is well worth checking out just to look at the pretty pictures of delicious food.
Gerard, T. Half baked harvest super simple. Clarkson Potter. 2019.