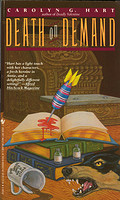 Carolyn G. Hart's Death on Demand is the first in a series of cozy mysteries located in Broward's Rock, South Carolina, an island. Annie Laurance moved to Broward Rock to spend the summer with her uncle, he dies in a boat accident, and so she inherits his bookstore, remodels it, and names it Death on Demand. The story begins with a list of items, and an incident and death in a veterinary clinic. Then, with hints already placed, we meet Annie, in her bookstore, putting off a phone call. Instead of making the call, she receives a call from Max Darling, the young man she was attracted to in New York City. She left no forwarding information; he's had to find her through a series of calls and detective work. In addition, because he tracked her to South Carolina, he's also driven down from New York, to visit, and find out what took her from her career in the city. And away from him.

I had missed Ms. Hart's writing as much as these two characters. Annie is a straight shooting girl from Texas with a strong work ethic, and Max "delighted in ambiguities, disdained certainties, and loved above anything to puncture pretensions."* But he makes her smile and her heart lifts when she finds out he's in South Carolina. And the tiny island has several mystery writers of some note living there full time, as well as a small town community. What could go wrong? Well, at the usual meeting of the writers, her landlord, a true crime writer, has told her that he's going to share information in his next book—about his fellow mystery writers' dirty laundry. And the writers are as varied as possible, thriller, cozy, police procedural, children's and true crime. At the party, the lights go out, the usual kerfuffle of bumped tables, people shouting, and offering directions. When Annie gets the lights on, her landlord is found on the floor with a dart in his throat, and dead. When the sheriff arrives, he blames Annie, for both the death of her landlord, but also her Uncle, with whom she had a close relationship. It all spurs her to clear her name.

I will admit the series begins in 1987, so sometimes one has to recall the state of technology, not just phones, but computers. So much needs to be seen in the correct timeline. The island also relies on a ferry that crosses to and from the mainland at set times. Although there are private boats, and a marina, the story reads like a closed system. Also, the two main characters, (and the author), throw in references to mystery writers and their books, from the golden age of mystery to the present. Which, if you don't know them, will have you writing lists of titles of books. And did I mention Ms. Hart's writing? This is just the book to read, or reread, during stressful times.

Death on Demand, by Carolyn G. Hart, 1987.

*quoted from Death on Demand, Chapter 3, page 7, in omnibus, Death on Demand/Design for Murder, Bantam Book, printed in 2008.