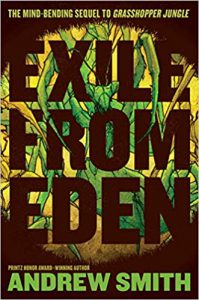 Exile from Eden, the featured title in this Friday Reads, is the sequel to Andrew Smith's 2014 apocalyptic novel, Grasshopper Jungle, which I claimed as my new favorite book in a July 15, 2016 Friday Reads. I guess, therefore, this is a sequel Friday Reads.
Exile from Eden begins sixteen years after six-foot-tall praying mantises with a taste for human flesh forced Austin Szczerba, Robby Brees, and Shann Collins, along with Robby's mother, Connie Brees, her boyfriend, Louis Sing, Shann's mother and stepfather, Wendy and Johnny McKeon, and Austin's dog, Ingrid, to hole up in an underground bunker, called Eden. During these sixteen years, Johnny McKeon and Ingrid have died, and Arek Szczerba and Mel Sing have been born. Arek is the son of Austin and Shann, though he considers Robby his second father. Mel is the daughter of Connie and Louis.
Narrated by sixteen-year-old Arek, Exile from Eden tells the story of what happens when he and fifteen-year-old Mel leave Eden (or, as Arek calls it, "the hole") to search for Austin and Robby, who have failed to return from one of their regular supply-gathering missions. A road trip adventure ensues. As was the case with Grasshopper Jungle, however, Exile from Eden is about so much more than a mere plot summary would suggest. After all, as Austin stated in Grasshopper Jungle, "[g]ood books are about everything."
In Grasshopper Jungle, Austin was obsessed with recording history and telling the truth. In Exile from Eden, Arek, his son, also ruminates on truth—how we construct it for ourselves and try to convey it to others: "All stories are true the moment they are told," Arek states in the opening sentence of the book. "Whether or not they continue to be true is up to the listener" (3).
Because he was born and raised in the hole, Arek has no firsthand knowledge of the before-the-hole world, and extremely limited exposure to the new post-apocalyptic world outside the hole. To address this deficit, his father, Austin, brings back artifacts—including books, maps, and paintings—to try to build a model of the world for Arek. As Arek discovers after leaving the hole, however, "the model . . . is not the thing" (110). This leads him to further epistemological exploration of what we can know and how we can know it:
. . . My father's model of the world was supposed to represent everything that was outside the hole. The only thing that can re-present anything real is the thing itself. No models can ever adequately perform that job.
The model presents—and re-presents—only the model, and nothing more.
And the data—what's really outside the hole—does not call to us, so we must go to it, and then interpret its meaning with our incompetent human minds. The data is mute; we give it an imperfect voice. (110)
Exile from Eden juxtaposes the before-the-hole world, with its rules and protocols, shame and inhibitions, with the terrifying, unstructured freedom offered by the after-the-hole world. In Eden, Arek's grandmother, Wendy–"SPEAKER OF LAWS" (20), believer in following instructions, and segregator of the sexes—represents the pre-hole world. The promise of the post-hole world, on the other hand, is captured most powerfully by a line from Herman Melville's Moby-Dick, recited by Arek's father, Austin, after he and Arek finish reading the book aloud to each other: "In landlessness alone resides the highest truth, shoreless, indefinite as God" (244).
At one point, Austin tells Arek "you and Mel are like the first humans on earth. You are the new people, without the baggage everyone carried with them, without end, from before" (188). Indeed, after months outside the hole, Arek describes Mel and himself as "joined to the world outside, not as pieces of a model, but as the thing itself" (347).
In the final chapter, when he and Mel finally reunite with Austin and Robby, Arek, channeling Melville, describes himself as "Shoreless Man." And when Austin asks how he likes it outside the hole, Arek replies "There are no rules, and it's wild" (353). Based on the premise set up throughout the book, this is a good thing and a happy ending.
Smith, Andrew. Exile from Eden. New York: Simon & Schuster Children's Publishing, 2019.