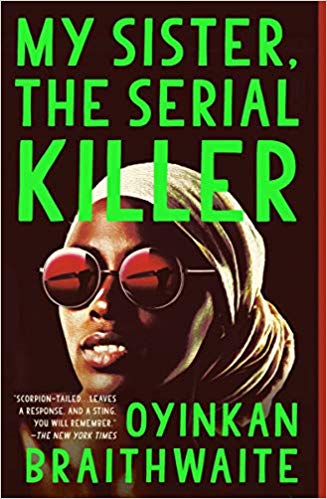 It's a well known fact that sisters have complicated relationships, possibly none more so than Korede and her younger sister Ayoola. Nurse Korede is hardworking, practical, and reliable, while her beautiful little sister is anything but. Charming and sweet, but ultimately selfish and unmotivated, Ayoola surrounds herself with those that will take care of her: men, friends, and Korede.
While she resents Ayoola's easy and fun-filled life, Korede nevertheless continues to bail her sister out of every mess she gets into… including murder. Ayoola has killed the last 3 men she dated, calling her big sister to help her hide the evidence. Now, Ayoola has attracted the attention of Korede's boss (and crush), head doctor Tade. Korede must decide if blood really is thicker than water (or just harder to clean up).
Braitwaite, Oyinkan. My Sister the Serial Killer. Doubleday, 2018.