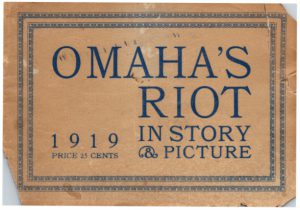 One hundred years ago on September 28th, Will Brown was lynched by a mob in Omaha. This week a number of events are being held in Omaha to remember Mr. Brown and discuss events that took place.
Students of history are encouraged to research primary sources—items from, documents written, or witnesses quoted at the time of the event or period of study. Also consulted by researchers, secondary sources present information collected from primary sources and provide the writers' viewpoint on the subject.
One such contemporaneous secondary source, Omaha's Riot in Story & Picture, can be found in Nebraska Memories. Printed and distributed by the Educational Publishing Company of Omaha, Nebraska, the document, written shortly after the event, purports to have an educational purpose. It states in part: "… publicity is the surest cure for lawlessness. The story of the riot has its lessons for all thinking citizens. The dramatic facts of the mob scenes are herein set forth in word and picture, with the view of stimulating serious thought and a possible probe into conditions that seem to foster anarchy."
Nebraska Memories is a cooperative project to digitize Nebraska-related historical and cultural heritage materials and make them available to researchers of all ages via the Internet. The Nebraska Memories archive is brought to you by the Nebraska Library Commission. If your institution is interested in participating in Nebraska Memories, see http://nlc.nebraska.gov/nebraskamemories/participation.aspx for more information.