"Have you ever been in Nebraska in the fall?"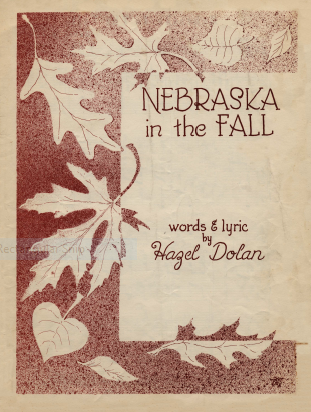 Fall is officially here and we thought this piece of sheet music would be perfect for this week's #ThrowbackThursday! "Nebraska in the fall" was written in 1959 by Hazel Dolan of Louisville, Nebraska.
"Have you ever been in Nebraska in the fall?
Down a country road in Nebraska in the fall?
When the autumn leaves have turned to red and gold and flowers in the gardens are lovely to behold!
Have you seen the cornland when Harvest comes along?
Have you heard the blackbird's farewell song?
Blue skies! Purple haze! Indian summer days!
Best place of all! Nebraska in the fall!"
This piece is provided and owned by the Polley Music Library. Over 250 pieces of Nebraska sheet music are available through the Nebraska Memories databases, as well as concert programs, manuscripts, theatre programs, photographs, and other Nebraska memorabilia which features an element of music. Searchers can also listen to a dozen performances of selections from this music collection performed by local musicians.
Interested in Nebraska history? Check out the Nebraska Memories archive to see more Nebraska-related materials!
Nebraska Memories is a cooperative project to digitize Nebraska-related historical and cultural heritage materials and make them available to researchers of all ages via the Internet. The Nebraska Memories archive is brought to you by the Nebraska Library Commission. If your institution is interested in participating in Nebraska Memories, see http://nlc.nebraska.gov/nebraskamemories/participation.aspx for more information.