The Nebraska Publications Clearinghouse receives documents every month from all Nebraska state agencies, including the University of Nebraska Press (UNP).  Each month we will be showcasing the UNP books that the Clearinghouse receives.                UNP books, as well as all Nebraska state documents, are available for checkout by libraries and librarians, for their patrons, in Nebraska.
Here are the UNP books the Clearinghouse received in July:
Art from Trauma : Genocide and Healing Beyond Rwanda          Edited and with an introduction by Rangira Bea Gallimore and Gerise Herndon
What is the role of aesthetic expression in responding to discrimination, tragedy, violence, even genocide? How does gender shape responses to both literal and structural violence, including implicit linguistic, familial, and cultural violence? How might writing or other works of art contribute to healing? Art from Trauma: Genocide and Healing beyond Rwanda explores the possibility of art as therapeutic, capable of implementation by mental health practitioners crafting mental health policy in Rwanda.
This anthology of scholarly, personal, and hybrid essays was inspired by scholar and activist Chantal Kalisa (1965–2015). At the commemoration of the nineteenth anniversary of the genocide in Rwanda, organized by the Rwandan Embassy in Washington DC, Kalisa gave a presentation, "Who Speaks for the Survivors of the Genocide against Tutsi?" Kalisa devoted her energy to giving expression to those whose voices had been distorted or silenced. The essays in this anthology address how the production and experience of visual, dramatic, cinematic, and musical arts, in addition to literary arts, contribute to healing from the trauma of mass violence, offering preliminary responses to questions like Kalisa's and honoring her by continuing the dialogue in which she participated with such passion, sharing the work of scholars and colleagues in genocide studies, gender studies, and francophone literatures.
Give the Word : Responses to Werner Hamacher's                                                                                              95 Theses on Philology
                                                                                Edited by Gerhard Richter and Ann Smock (Series: Stages)
Werner Hamacher's witty and elliptical 95 Theses on Philology challenges the humanities—and particularly academic philology—that assume language to be a given entity rather than an event. In Give the Word eleven scholars of literature and philosophy (Susan Bernstein, Michèle Cohen-Halimi, Peter Fenves, Sean Gurd, Daniel Heller-Roazen, Jan Plug, Gerhard Richter, Avital Ronell, Thomas Schestag, Ann Smock, and Vincent van Gerven Oei) take up the challenge presented by Hamacher's theses. At the close Hamacher responds to them in a spirited text that elaborates on the context of his 95 Theses and its rich theoretical and philosophical ramifications.
The 95 Theses, included in this volume, makes this collection a rich resource for the study and practice of "radical philology." Hamacher's philology interrupts and transforms, parting with tradition precisely in order to remain faithful to its radical but increasingly occluded core.
The contributors test Hamacher's break with philology in a variety of ways, attempting a philological practice that does not take language as an object of knowledge, study, or even love. Thus, in responding to Hamacher's Theses, the authors approach language that, because it can never be an object of any kind, awakens an unfamiliar desire. Taken together these essays problematize philological ontology in a movement toward radical reconceptualizations of labor, action, and historical time.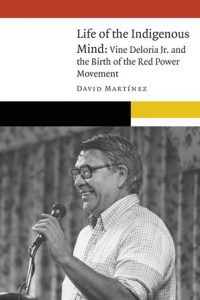 Life of the Indigenous Mind : Vine Deloria Jr. and the Birth of the Red Power Movement                                                                                 David Martinez (Series: New Visions in Native American and Indigenous Studies)
In Life of the Indigenous Mind David Martínez examines the early activism, life, and writings of Vine Deloria Jr. (1933–2005), the most influential indigenous activist and writer of the twentieth century and one of the intellectual architects of the Red Power movement. An experienced activist, administrator, and political analyst, Deloria was motivated to activism and writing by his work as executive director of the National Congress of American Indians, and he came to view discourse on tribal self-determination as the most important objective for making a viable future for tribes.
In this work of both intellectual and activist history, Martínez assesses the early life and legacy of Deloria's "Red Power Tetralogy," his most powerful and polemical works: Custer Died for Your Sins (1969), We Talk, You Listen (1970), God Is Red (1973), and Behind the Trail of Broken Treaties (1974). Deloria's gift for combining sharp political analysis with a cutting sense of humor rattled his adversaries as much as it delighted his growing readership.
Life of the Indigenous Mind reveals how Deloria's writings addressed Indians and non-Indians alike. It was in the spirit of protest that Deloria famously and infamously confronted the tenets of Christianity, the policies of the Bureau of Indian Affairs, and the theories of anthropology. The concept of tribal self-determination that he initiated both overturned the presumptions of the dominant society, including various "Indian experts," and asserted that tribes were entitled to the rights of independent sovereign nations in their relationship with the United States, be it legally, politically, culturally, historically, or religiously.
Messianic Fulfillments : Staging Indigenous Salvation in America                                                                        Hayes Peter
Mauro
In Messianic Fulfillments Hayes Peter Mauro examines the role of Christian evangelical movements in shaping American identity in the seventeenth, eighteenth, and nineteenth centuries. Focusing on Christianity's fervent pursuit of Native American salvation, Mauro discusses Anglo American artists influenced by Christian millenarianism, natural history, and racial science in America. Artists on the colonial, antebellum, and post–Civil War frontier graphically projected their idealization of Christian-based identity onto the bodies of American Indians.
Messianic Fulfillments explores how Puritans, Quakers, Mormons, and members of other Christian millenarian movements viewed Native peoples as childlike, primitive, and in desperate need of Christianization lest they fall into perpetual sin and oblivion and slip into eternal damnation. Christian missionaries were driven by the idea that catastrophic Native American spiritual failure would, in Christ's eyes, reflect on the shortcomings of those Christians tasked with doing the work of Christian "charity" in the New World.
With an interdisciplinary approach drawing from religious studies and the histories of popular science and art, Messianic Fulfillmentsexplores ethnohistorical encounters in colonial and nineteenth-century America through the lens of artistic works by evangelically inspired Anglo American artists and photographers. Mauro takes a critical look at a variety of visual mediums to illustrate how evangelical imagery influenced definitions of "Americaness," and how such images reinforced or challenged historically prevailing conceptions of what it means (and looks like) to be American.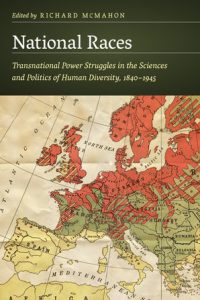 National Races : Transnational Power Struggles in the Sciences and Politics of Human Diversity, 1840-1945                                                  Edited by Richard McMahon (Series: Critical Studies in the History of Anthropology)
National Races explores how politics interacted with transnational science in the nineteenth and early twentieth centuries. This interaction produced powerful, racialized national identity discourses whose influence continues to resonate in today's culture and politics. Ethnologists, anthropologists, and raciologists compared modern physical types with ancient skeletal finds to unearth the deep prehistoric past and true nature of nations. These scientists understood certain physical types to be what Richard McMahon calls "national races," or the ageless biological essences of nations.
Contributors to this volume address a central tension in anthropological race classification. On one hand, classifiers were nationalists who explicitly or implicitly used race narratives to promote political agendas. Their accounts of prehistoric geopolitics treated "national races" as the proxies of nations in order to legitimize present-day geopolitical positions. On the other hand, the transnational community of race scholars resisted the centrifugal forces of nationalism. Their interdisciplinary project was a vital episode in the development of the social sciences, using biological race classification to explain the history, geography, relationships, and psychologies of nations.
National Races goes to the heart of tensions between nationalism and transnationalism, politics and science, by examining transnational science from the perspective of its peripheries. Contributors to the book supplement the traditional focus of historians on France, Britain, and Germany, with myriad case studies and examples of nineteenth- and early twentieth-century racial and national identities in countries such as Russia, Italy, Poland, Greece, and Yugoslavia, and among Jewish anthropologists.
Place and Postcolonial Ecofeminism : Pakistani Women's Literary and
Cinematic Fictions                              Shazia Rahman (Series: Expanding Frontiers : Interdisciplinary Approaches to Studies of Women, Gender, and Sexuality)
While news reports about Pakistan tend to cover Taliban attacks and bombings, and academics focus on security issues, the environment often takes a backseat in media reportage and scholarship. In particular, Pakistani women's attachment to their environment and their environmental concerns are almost always ignored. Shazia Rahman traces the ways in which Pakistani women explore alternative, environmental modes of belonging, examines the vitality of place-based identities within Pakistani culture, and thereby contributes to evolving understandings of Pakistani women—in relation to both their environment and to various discourses of nation and patriarchy.
Through an astute analysis of such works as Sabiha Sumar's Khamosh Pani (2003), Mehreen Jabbar's Ramchand Pakistani (2008), Sorayya Khan's Noor (2006), Uzma Aslam Khan's Trespassing (2003), and Kamila Shamsie's Burnt Shadows (2009), Rahman illuminates how Pakistani women's creative works portray how people live with one another, deal with their environment, and intuit their relationship with the spiritual. She considers how literary and cinematic documentation of place-based identities simultaneously critiques and counters stereotypes of Pakistan as a country of religious nationalism and oppressive patriarchy. Rahman's analysis discloses fresh perspectives for thinking about the relationship between social and environmental justice.
The Virgin of Prince Street : Expeditions into Devotion                      Sonja Livingston (Series: American Lives)
With organized religion becoming increasingly divisive and politicized and Americans abandoning their pews in droves, it's easy to question aspects of traditional spirituality and devotion. In response to this shifting landscape, Sonja Livingston undertakes a variety of expeditions—from a mobile confessional in Cajun Country to a eucharistic procession in Galway, Ireland, to the Death and Marigolds Parade in Albuquerque, New Mexico, and Mass in a county jail on Thanksgiving Day—to better understand devotion in her own life.
The Virgin of Prince Street chronicles her quest, offering an intimate and unusually candid view into Livingston's relationship with the swiftly changing Catholic Church and into her own changing heart. Ultimately, Livingston's meditations on quirky rituals and fading traditions thoughtfully and dynamically interrogate traditional elements of sacramental devotion, especially as they relate to concepts of religion, relationships, and the sacred.