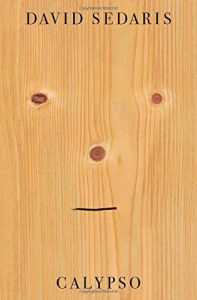 This spring, I consumed a lot of depressing nonfiction. As summer approached, I was ready for a change. I wanted to read something funny, with the power to transport me out of my own head. Luckily, David Sedaris's new book,
Calypso
, hit the shelves on May 29, 2018. It was just what the doctor ordered. Like Sedaris's previous books,
Calypso
is a collection of personal stories (Sedaris refers to them as "realish") told for maximum comedic effect. As his readers have come to expect, many of these tales feature family: his four living siblings; his nonagenarian father, Lou; and his long-term and long-suffering boyfriend, Hugh. His mother, who died during cancer treatment in 1991, and his sister, Tiffany, who committed suicide in 2013, are also present, even in their absence. What's different about this current book is that everyone is older; themes of middle age and the passage of time run throughout. This doesn't make the book a downer though, just relatable, as I too have aged. And never fear–Sedaris's talent for treating sober and mundane topics poignantly, while at the same time triggering barks of laughter with his irreverent, sometimes shocking humor, remains intact. In some of my favorite passages in the book, Sedaris muses on his twenty-plus-year relationship with Hugh. For instance, in "Company Man" Sedaris writes:
We're not a horrible couple, but we have our share of fights, the type that can start with a misplaced sock and suddenly be about everything. "I haven't liked you since 2002," [Hugh] hissed during a recent argument over which airport security line was moving the fastest.
This didn't hurt me so much as confuse me. "What happened in 2002?" I asked.
Hugh's line about not liking David since 2002 cracks me up, but I think the fact that the insult merely piques David's curiosity about what happened in 2002 brilliantly conveys the security and familiarity of the couple's bond, despite squabbles. Other stories in the collection deal with, among other things, a fatty tumor Sedaris wants to have removed so he can feed it to a snapping turtle; his mother's never addressed alcoholism; a psychic-mediated conversation between his sister Amy and their deceased mother and sister; and their father's refusal to move out of his house despite regular falls. Depressing, yes, but hilariously so! I promise! Sedaris, David.
Calypso
. New York: Little, Brown, & Co., 2018.