A few weeks ago, I had a conversation with a librarian about old seed catalogs. I must admit that before the conversation I'd never thought about seed companies or their catalogs. I'd seen photos of seed companies in
Nebraska Memories
and I thought their main business would have been selling corn, wheat or other seeds that farmers needed along with some basic seeds for the garden. Because of that conversation, I found the US Department of Agricultural Library's Henry G. Gilbert Nursery and Seed Trade Catalog Collection. The collection contains over 200,000 items and currently 41,683 of them have been digitized and made available through the
Internet Archives
. In the digitized collection, I found 644 seed catalogs or price lists from Nebraska including items for all three seed stores pictured in Nebraska
Memories. After looking at these catalogs, I realized that these seed companies sold a lot more than seed corn. Let me share with you what I learned about these three stores.
Griswold Seed and Nursery Company
This photo from 1928 is of the Griswold Seed and Nursery Company's elevator and warehouse. This warehouse was built in 1910 at the corner of 8th and N Street in downtown Lincoln. In 1994, the building was sold to the Midwest Steel Company. As you can see in
Google Street View
, the building is still being used today.
I found
27 catalogs
from the Griswold Company in the US Dept. of Ag collection. Looking through the catalogs, I learned that the company was started in 1891. The image to the left is from the
1916 catalog
and shows the elevator and warehouse and their retail store that was located at 147 S 10th St. If you are familiar with Lincoln, this is the address of the parking lot next to the Terminal Building. On this same page of the catalog, they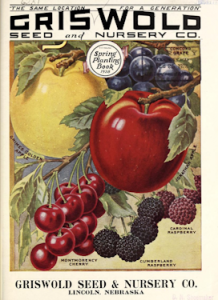 mention that their name is now Griswold Seed & Nursery Co. Previously it was just the Griswold Seed Co. The photo of the Griswold elevator and warehouse was taken in 1928 so I looked at the
Griswold Seed & Nursery Co. Spring 1928 catalog
. The catalog has 92 pages. The front cover shows a couple of varieties of apples and berries. Looking at the index, I'm guessing there are over 400 items listed including a variety of flowers, vegetables, trees and bushes. I checked and they did sell field corn, wheat and sugar beets.
Gunn Seed Company View 1 and View 2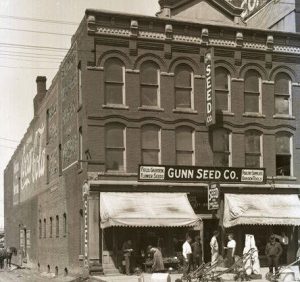 The Gunn Seed Company was located at 219 S. 10th Street in Lincoln. This was just down the block from the Griswold retail store. That location is also currently a parking lot. If you take the time to look at the photos of the Gunn Seed Company, it is obvious that they sell a variety of items. The smaller sign above the door says Gunn Seed Co. Poultry Supplies. The larger sign mentions Field, Garden, Flower Seeds on one side and Poultry Supplies / Garden Tools on other. On the sidewalk in front of the store is a collection of plants, gardening tools and bags of feed.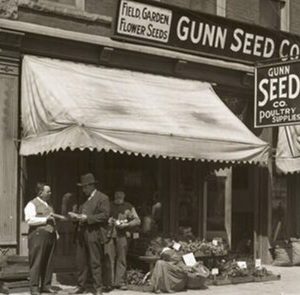 There are 10 documents from the
Gunn Seed Company
included in the US Dept. of Ag collection. Like the Griswold Seed Company, Gunn sold a variety of vegetable and flower seeds. They also offered a wide variety of poultry supplies. Both photos of the Gunn Seed Company were taken in 1916. Their first catalog available in the collection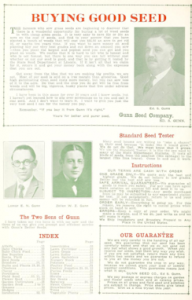 is from 1919. I'm not sure when the Gunn store first opened. I looked in the 1908 city directory and did not find the Gunn Seed store listed but I did find an entry for Gunn, Edwin S. who was listed as the "mngr retail dept Griswold Seed Co.". I looked through all of the Gunn seed catalogs and in every one of them is a picture of Ed. S. Gunn. My guess is that Edwin left Griswold Seed and started his own company but I wasn't able to find any documentation that confirmed this.
C.P. Coy & Co. seed house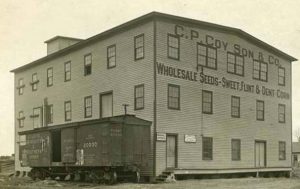 This photo of the C. P. Coy & Co. building located in Valley was taken around 1910. We don't know the exact date of the photo was taken. We do know that it was built in 1903. My search of the US Dept. of Ag's collection for Coy was successful as I found 16 different seed price lists. As I started looking at them, I realized there were two companies with similar names. There were seven prices lists from
Chauncey P. Coy and Son
. This name matches the name on side of the building. The dates of the price lists range from 1901 to 1926. The address listed on all of these price lists is Waterloo, NE however. The two names listed in the 1902 booklet were C. P. Coy and H. G. Coy. The other nine price lists are from the
C. Herbert Coy Seed Co.
of Valley. They range from 1916 to 1926. The
1915 catalog
has a picture of the same building that is in Nebraska Memories. The name on the building is now C. Herbert Coy Seed Co.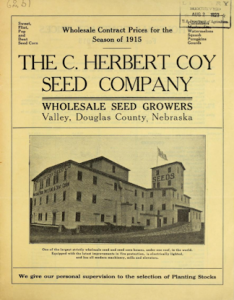 At first, I thought C. Herbert might be the son but the names didn't match up. I found more information about C. Herbert in the 1917 book
Omaha: The Gate City, and Douglas County, Nebraska, Volume 2
. In the short bio about him, it states that he moved to Valley from New York in 1901 to start his company. There is no reference to him having family in Waterloo. According to a family tree created by a distant Coy relative that I found in the
MyHeritage Library Edition
database Chauncey P. Coy would have been Charles Herbert Coy's uncle. Both the Coy companies were wholesale seed growers. Their price sheets were set up to sell seed by the pound. They offered a limited selection of seeds including cucumbers, melons, gourds, and corn. I hope you enjoyed learning a little bit about these three seed companies. Visit
Nebraska Memories
to search for or browse through many more historical images digitized from photographs, negatives, postcards, maps, lantern slides, books and other materials. Nebraska Memories is a cooperative project to digitize Nebraska-related historical and cultural heritage materials and make them available to researchers of all ages via the Internet. Nebraska Memories is brought to you by the Nebraska Library Commission. If your institution is interested in participating in Nebraska Memories, see
http://nlc.nebraska.gov/nebraskamemories/participation.aspx
for more information, contact
Devra Dragos
, Technology & Access Services Director.