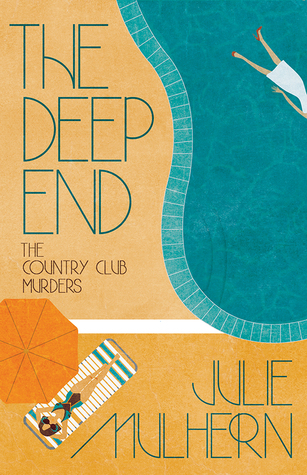 I've been trying to read more mysteries lately and it seems as though I've really been missing out on some things. 
The Deep End 
was one of those books that I saw on Amazon for $2, bought on a whim, and got hooked.  This is the first book in The Country Club Murders series by Julie Mulhern. The sixth book in the series,
Cold as Ice
, was just published October 17th. Set in 1974 Kansas City, MO, the book begins with Ellison Russell, a rather successful artist, who goes out for an early morning swim at the local country club, only to bump into the dead body of Madeline Harper (who happens to be her husband's mistress). She would be the prime suspect for Madeline's murder except that Ellison's husband, Henry, has disappeared. Murder, blackmail, an overbearing mother, and country club secrets all surround Ellison as she tries to discover who the killer is while protecting her teenage daughter, Grace. Mulhern does a good job at developing the mystery and the characters. In the beginning, Ellison seems like a fairly defeated character. She has her art, but is just waiting for Grace to graduate high school so she can divorce Henry. Throughout the book though, she starts to stand up and stop caring what her mother (or fellow country club members) think. Funny. Easy to read. Not quite a cozy mystery, there's a bit of an edge to it with the slight references to Henry's affairs. Borderline cozy?