Some people say change is inevitable, but how much have things really changed over the past 100 years?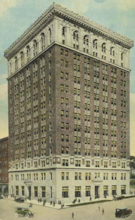 In 1917, the 
Nebraska Telephone Co. Building
at left was completed in Omaha with a "modern telephone exchange" (
Omaha Public Library Collection
). There were over 6,000 independent telephone companies in the United States at that time with a fair number in Nebraska. Over the years many of those companies merged or were bought out. Today with the cell phone technology, different service providers, who buy out and/or merge with each other regularly, are again working to provide a new "telephone exchange" by expanding cell phone service to the more rural areas of Nebraska.
Transportation was in flux in 1917. While horse-drawn vehicles were still in use in some rural areas, motorized vehicles were taking over–both gas and electric. This brought about the building of automobile dealerships, gas stations, garages, solid-surface roads, and more. The
Osborne Garage
in Sidney at right was one of many such businesses being built in Nebraska (
Cheyenne County Historical Society and Museum Collection
). Mechanics today use computers to tune-up cars and trucks, but the basic need is still there for new tires, oil changes, etc. Now new dealerships and their garages are being built on the outskirts of town. And while gas cars won out for a number of decades, electric cars are making a comeback and bringing about the construction of re-charging stations. And who doesn't run into road construction–or the need for it–on a regular basis?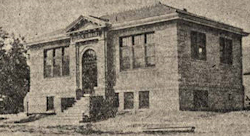 The population growth in early twentieth-century Nebraska brought a demand for amenities such as public libraries. At least 72 Nebraska towns erected new public library buildings between 1900 and 1920. 1917 alone saw the construction of at least nine public library buildings, two of which are still used as libraries: Cordelia B. Preston Memorial Library in Orleans and 
Arcadia Public Library
at left (
Nebraska Library Commission Collection
). Other libraries have had to move on from old buildings to new buildings as technology has brought demands for different services. In 2017, Blair Public Library and Scribner Public Library both celebrated grand openings of their new facilities.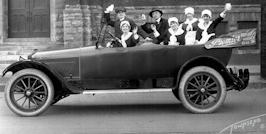 Live entertainment was popular in 1917 as it is today. In the
Boileau Chautauqua Company
photograph at right cast members in costume pose in a car. (
Townsend Studio Collection
).  As the banner on the rear promotes the model of the car, perhaps this is an early example of promoting products for corporate sponsorship. While many people still traveled by train in 1917, touring cars (open cars that could carry five or more passengers a long distance) would become popular. A car allowed more flexibility in timetables and destinations. Today many entertainers move on to their next venue in tour buses. So visit
Nebraska Memories
 and see what old things or concepts are new again among the many historical images digitized from photographs, negatives, postcards, maps, lantern slides, books and other materials. Nebraska Memories is a cooperative project to digitize Nebraska-related historical and cultural heritage materials and make them available to researchers of all ages via the Internet. Nebraska Memories is brought to you by the Nebraska Library Commission. If your institution is interested in participating in Nebraska Memories, see
http://nlc.nebraska.gov/nebraskamemories/participation.aspx
for more information, contact
Devra Dragos
, Technology & Access Services Director.