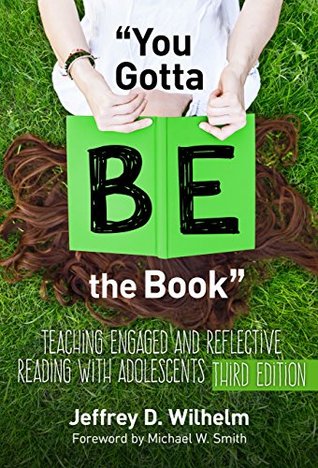 "…engaged reading — beyond involving cognitive processes (as the Core and next-generation standards emphasize) — is a deeply emotional, participatory, dramatic, embodied, visual, artistic, psychological, and potentially transformational pursuit. This we must not forget as teachers or as readers, or we will not tap into the immense power of reading, and thus we limit our capacity to be effective teachers or readers."
Why do some students struggle with reading? Why can't they "see" the story in their mind or connect with text?  What are highly engaged readers doing or thinking when they read? How is this different from struggling readers and how can they be helped? While this book isn't exactly an exciting summer beach read, it's always interesting to read about reading, I think. First published in 1996, with a third edition published in 2016,
You Gotta BE the Book
 examines Jeffrey Wilhelm's research in his middle school classrooms teaching his own experiences and through student stories from both engaged and struggling readers. Wilhelm describes his difficulties trying to teach students who continually insist that they hate reading. They don't enjoy reading and it's difficult for them. Working with individual readers at all levels allowed Wilhelm to develop different interventions/strategies which then helped his students practice visualizing the text, creating the opportunities necessary for struggling readers to finally connect with literature in meaningful ways. The book is an interesting mix between Wilhelm's early reflections as a teacher, the feedback of his students, and reading theory. The visualization strategies and activity ideas, including drama and art, that Wilhelm describes could also be adapted outside of the classroom.
"You Gotta BE the Book": Teaching Engaged and Reflective Reading with Adolescents
, Third Edition by Jeffrey Wilhelm (2016) Also, if you want to read more about literacy theories, this is a good introduction:
Lenses on Reading: An Introduction to Theories and Models
by Diane Tracey and Lesley Morrow (2012) And another related book to add to your list, just because it's interesting:
Reading Don't Fix No Chevys: Literacy in the Lives of Young Men
by Michael Smith and Jeffrey Wilhelm (2002)