The origin of the phrase "to the nines" is debatable; however, the meaning or intent seems to be consistent, as in to perfection or to the highest degree. When combined with the word dress, it can mean smartly or flamboyantly.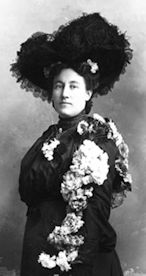 Formal dress was de rigueur for photographs taken in a photographer's studio, even in small town Nebraska.
Florence Martin Stevens
, dressed in a trim two-piece fitted top and matching skirt, posed for the photograph, at left, taken by A. C. Strauss in Osceola, Nebraska, probably in the 1890s. The only embellishment on her tidy costume appears to be a bow at the collar.
Margaret Meister's
costume,  on the other hand, is a bit looser fitting, embellished with flowers, and topped by a very large frilly hat. Mrs. Meister's photographer, Harvey Boston of David City, perhaps contributed the flowers as some of the women in other photographs taken by him are also decked out in a similar manner (
Butler County Gallery Collection
).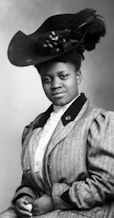 In the following decade,
Dora Lane
dressed just as fine but her costume is a two-piece suit made of a lighter colored pinstripe material and worn over a white blouse with lace at its collar. The jacket, while fitted around the body, has puffed sleeves and insets of darker cloth at the cuffs which match the attachment on her collar. Her large hat of a dark color isn't quite as frilly as Mrs. Meister's; it has a bit of frill at the back and some type of ornamentation on the front brim. Harvey Boston also took this photograph.
A few decades later, during the Great Depression, hemlines had risen and clothing tended to be less bulky. However, in
Mr. and Mrs. Victor Barta's
wedding picture, the bride, Helen, wears a dark dress lightened by a wide, white lace over-collar and calla lilies pinned at the center of her neckline. Her soft hat is much smaller than the other two, more like a cap, but it has a wide woven ribbon around the edge and a short piece of netting attached to the back edge. This photograph was taken by Harvey's daughter, Edith Boston Proskovec in 1936.
So where would these ladies have gotten their fine outfits? The first three were most likely made at home or by a dressmaker specifically for the wearers. Into the beginning of the twentieth century, even in institutions, like the Nebraska Hospital for the Insane, clothing had to be sewn (
Section of sewing room in Industrial Building, Nebraska Hospital for the Insane. Lincoln,
Nebraska Library Commission Collection
).
Mrs. Barta, Helen, may have had her dress specially made, too. Or it's possible she made the trip to one of the larger towns in Nebraska to shop at a store such as
Virginia Dare Women's Apparel
in Omaha. William Wentworth's night time photograph from the late 1930s or early 1940s shows lots of wonderful costumes and accoutrements. The Brandeis Store was another popular department store in Omaha, and Wentworth's photograph at right shows one of their
models
 wearing a ready-to-wear print dress in 1939. (
The Durham Museum Collection
) It is also possible that Helen shopped in her local dress store the
A to Z Dress Shop
in David City, shown below. Small to be sure, but customers were certain to receive personal service.
Visit
Nebraska Memories
to search for or browse through many more historical images digitized from photographs, negatives, postcards, maps, lantern slides, books and other materials. Nebraska Memories is a cooperative project to digitize Nebraska-related historical and cultural heritage materials and make them available to researchers of all ages via the Internet. Nebraska Memories is brought to you by the Nebraska Library Commission. If your institution is interested in participating in Nebraska Memories, see
http://nlc.nebraska.gov/nebraskamemories/participation.aspx
for more information, contact
Devra Dragos
, Technology & Access Services Director.