The Nebraska High School State Basketball tournaments are well under way in Lincoln. Last week the girl's teams were in town for the championship games and this week the boy's teams are here. Last night, as I watched the news coverage of the games, I wondered if there were any historical photos of high school basketball teams in
Nebraska Memories
. I was happy to find a few photos of basketball teams although I'm not sure they were all high school teams.
Two of the photos I located are of girls' basketball teams. The first photo is of the
1909 Nebraska School for the Deaf (NSD) basketball team
. Most the girls have a smile on their face and look happy to be having their picture taken. NSD was a school for students in kindergarten through 12th grade. It was located in Omaha from 1869 to 1998 when it closed.
The second photo is of the
Sacramento basketball team
. I must admit that the first time I saw this photo I had to consult a map. I had no idea there was a town named Sacramento in Nebraska. Today I think Sacramento it what some folks may refer to as a wide spot in the road. It is located about six miles southeast of Holdrege. According to the
Nebraska State Historical Society
, the town was established sometime between 1876 and 1878 with a population of around 200. School District No. 8 was located there from 1876-1952. While there was a school in town at the time this photo was taken in 1913, we don't know if it was a school team.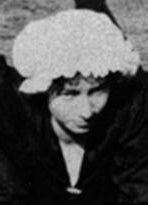 I do have to admire the caps that the girls have on. Can you imagine all of the girls who played in the games last week wearing caps like that?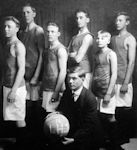 In the Nebraska Memories collection, there are two photos of basketball teams from Loomis. One photo is from
1916
and the other is from
1918
. According to the description of the photos Roland Bragg, Frank Johnston, and Gordon Linder appear in both photos. Again, I'm not sure if these are the high school basketball teams.
I thought some of the boys looked young so I did a quick search the 1910 US Federal Census for the boys. (Nebraskans can search this census and many other genealogy resources through the MyHeritage database, which is available through
NebraskAccess
.) I was easily able to locate Ronald and Reuben who were both 9 in 1910. I was also easily able to find Phil who was 10 and Gordon who was 11. That would make them 15, 16 and 17 in the 1916 photo. The last photo I want to highlight is that of the
1924 Bertrand High School basketball team
. Unlike the girls from NSD these guys aren't smiling. As you can see, they all have their arms crossed and most of them are trying to look tough.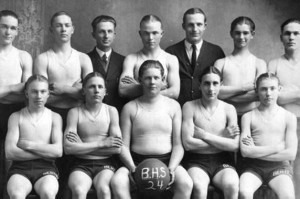 I was curious to see if this group of boys from Bertrand played in the Nebraska High School State Basketball tournament in 1924. I looked on the
Nebraska School Activities Association's (NSAA) website
and found some historical information about the basketball championships. They have information for the boy's teams going back to 1911 however; the information about the girl's teams only goes back to 1977. Here's what I learned after reading the information on the NSAA's site. In 1924 the boys state tourney was made up of 248 teams and they were divided into 16 classes. That year Bertand was in Class L. Assuming I'm reading the information correctly, Bertrand played in only one game against Papillion. They lost 11-12. Papillion then played Stockville and lost. Stockville then lost to Valley. In the last game Valley lost to Henderson. That made Henderson the 1924 Class L champions. Do want to see more? Visit
Nebraska Memories
to search for or browse through many more historical images digitized from photographs, negatives, postcards, maps, lantern slides, books and other materials. Nebraska Memories is a cooperative project to digitize Nebraska-related historical and cultural heritage materials and make them available to researchers of all ages via the Internet. Nebraska Memories is brought to you by the Nebraska Library Commission. If your institution is interested in participating in Nebraska Memories, see
http://nlc.nebraska.gov/nebraskamemories/participation.aspx
for more information, contact
Devra Dragos
, Technology & Access Services Director.