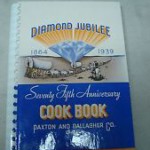 This week we received, as a gift, a copy of the Paxton & Gallagher 75th Anniversary Diamond Jubilee Cookbook, 1864-1939.  It has been wonderful to leaf through the recipes and handwritten notes, and wonder about the company who produced them, as well as the many cooks who used them.
As it turns out, there are several pictures related to Paxton & Gallagher in Nebraska Memories, so here is a brief history of the company and its' founders:
Paxton & Gallagher Wholesale Grocery was founded in 1879 by two Omaha businessmen: Ben Gallagher and William A. Paxton, and in a few short years became one of the largest grocery companies in the West.   Paxton started out as a cattleman, then became a banker who had his hand in many different businesses in Omaha and Nebraska.  Examples of Nebraska Memories pictures of some of his ventures are, from left to right: The Paxton Hotel, the Paxton & Vierling Iron Works, and the Nebraska Telephone Company (in which Paxton was a principal stockholder).
Gallagher, on the other hand, was a grocery man only, and previously operated a series of general stores all along the Union Pacific railroad route.
The original Paxton & Gallagher store was located at 15th and
Farnam Street in downtown Omaha, but later moved to a four story complex at 701-711 S. 10th Street.
Paxton & Gallagher hit it big when they launched their Butter-Nut line of foods, and especially after 1913 when they began selling Butter-Nut brand coffee, a name that many people remember, and is still around today.
Visit Nebraska Memories to search for or browse through many more historical images digitized from photographs, negatives, postcards, maps, lantern slides, books and other materials.
Nebraska Memories is a cooperative project to digitize Nebraska-related historical and cultural heritage materials and make them available to researchers of all ages via the Internet. Nebraska Memories is brought to you by the Nebraska Library Commission. If your institution is interested in participating in Nebraska Memories, see Participating in Nebraska Memories for more information, or contact Devra Dragos, Technology & Access Services Director.