Big Talk From Small Libraries is back! Registration for the 2016 Big Talk From Small Libraries online conference is now open! Details can be found on the
registration page
.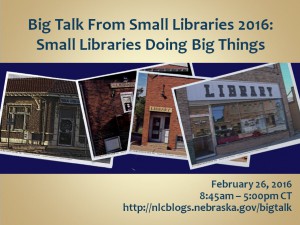 Big Talk From Small Libraries 2016 will be held on Friday, February 26, 2016 between 8:45 a.m. and 5:00 p.m. (CT) via the GoToWebinar online meeting service.
The schedule of presentations has not yet been set. We're in the process of contacting presenters now, and we'll have a schedule available for you soon.
More info about the online conference can be found on the event website.