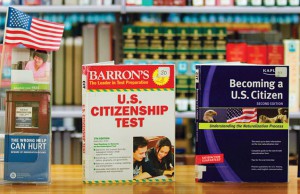 Libraries play an important role in raising awareness about the naturalization process and the rights and responsibilities of U.S. citizenship.
Create a dedicated space in your library where immigrants can find information about becoming a U.S. citizen.  
USCIS has developed educational materials to help prepare individuals for naturalization. These materials are ideal for setting up a Citizenship Corner in your library. Here immigrants can find the information and resources they need to start the path toward becoming a U.S. citizen. A typical Citizenship Corner includes citizenship test preparation materials along with information about the naturalization process. Libraries can also add information about community resources, English teaching materials, and other relevant books and videos from their collections. While there are a number of immigration topics that may be of interest to libraries and their customers, USCIS recommends displaying only citizenship and naturalization-related resources in the Citizenship Corner.
How to Set Up a Citizenship Corner at Your Library
Order one free copy of the USCIS Civics and Citizenship Toolkit. The Toolkit contains immigration and civics publications, handbooks, and multimedia tools. Additional copies are available for purchase through the U.S. Government Printing Office.
Build your collection by purchasing other USCIS materials. Most of the following publications are also included in the Civics and Citizenship Toolkit:

The USCIS Naturalization Interview and Test video
Learn About the United States: Quick Civics Lessons for the Naturalization Test
Vocabulary Flash Cards for the Naturalization Test
Civics Flash Cards for the Naturalization Test (English and Spanish)
Civics and Citizenship Multimedia Presentation

Download Form N-400, Application for Naturalization and provide copies in the Citizenship Corner. (Remind your customers that all USCIS forms are free.)
Display and distribute free USCIS informational resources:
Enhance your Citizenship Corner with other citizenship-related and English as a Second Language (ESL) resources from your library's collection:

Locate the Citizenship Corner near ESL textbooks and resources or post signs directing customers.
Feature books and magazines that address the content of the 100 civics questions on the naturalization test such as famous Americans, historical events, and important founding documents.

Arrange your Citizenship Corner to be welcoming and helpful. Here are some additional suggestions:

Decorate the Citizenship Corner in a patriotic theme.
Distribute promotional flyers for citizenship or ESL classes offered at your library.
Distribute flyers from local BIA-recognized organizations that may be able to help immigrant customers with USCIS forms. Visit uscis.gov for more information on finding legal services and BIA-recognized organizations.
Create and distribute a referral list of local community organizations that provide citizenship services and ESL classes in your community. Start by visiting the Find Help in Your Community page on the USCIS Citizenship Resource Center. Another resource for finding community organizations that offer ESL, civics, and citizenship education classes is America's Literacy Directory. Search for programs by zip code.

USCIS often hosts naturalization information sessions and administrative naturalization ceremonies in libraries. View the list of upcoming naturalization information sessions at libraries nationwide. Contact your local USCIS Community Relations Officer if you are interested in USCIS hosting a similar session at your library.
Create a virtual Citizenship Corner on your library website:

USCIS offers many free web resources in the Learners section of this site. You may want to add a link on your website.
Link to USCIS resources by adding a widget to your website. The widgets are small online applications in English and Spanish that can be embedded on social media sites, blogs, or other web pages.
You can also include information about immigration and citizenship resources available at your library.