It seems like every few weeks a news story about a photo of a model or celebrity being retouched makes the rounds. The topic of photo manipulation or retouching is not new but did you realize that the manipulation of images has been going on since the 1800's? I don't know a lot about how this early manipulation was done but they used many techniques including hand-coloring black and white photos and negatives and combining pieces of multiple pictures and negatives to create a new image.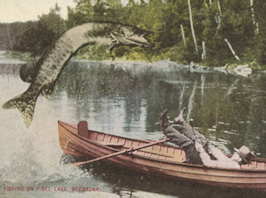 What I do know is that there are many great examples of
postcards
in Nebraska Memories that feature images that have been manipulated. Let's start by looking at an obvious manipulation. This postcard is captioned "
Fishing on Pibel Lake, Nebraska
". Look at the size of that fish. It is almost as big as the boat. If you want to try catching a big a fish like that you can visit Pibel Lake as it is a Nebraska State Recreation Area. (Update – The
Pibel Lake Recreation Area
is now owned by the Lower Loup Natural Resources District)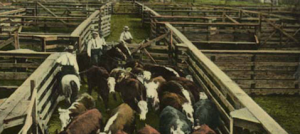 Looking at this postcard captioned "
Among the cattle pens, stock yards, South Omaha, Neb.
" you can see that color has been added but I think they got something wrong. Have you ever seen healthy green vegetation growing in an active stockyard? Growing up I drove past these stockyards many times. I don't remember them ever being this lush and green looking when they were filled with cattle. Sometimes looking at a single postcard you may realize that color has been added unless you can compare it to the original black and white image or you notice something odd you may think the coloring looks good. It would be fun if we could compare the original image to the enhanced version but unfortunately we don't have that option. In Nebraska Memories we do however have multiple postcards of the same scenes. There are two postcards in Nebraska Memories captioned "Partial view of stock yards, South Omaha". One is
black and white
while the other one has had
color
added. Looking at these postcards is a great way to see how adding color changes an image.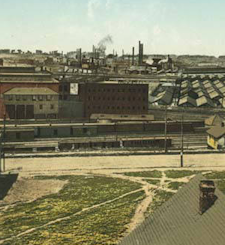 These next two postcards appear to be created from the exact same image however the manipulation that was done to them is slightly different. The postcards are captioned
Stock pens, South Omaha, Neb.
and
Stock pens, south side, Omaha, Neb.
. Some of the differences between these two postcards are obvious such as making the roofs have a reddish cast to them. Also the postcard on the top has an overcall darker feel to it.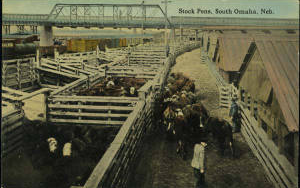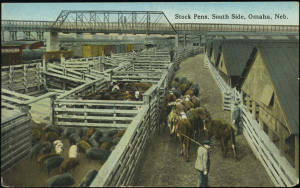 To see these next differences you may need use to above links to look at the actual items in Nebraska Memories where you will be able to zoom in on the postcards. Starting at the bottom left on the postcards do you see the animals in the pen? On one postcard they clearly look like pigs while on the other they look like black blobs. Moving to the right do you see the man standing behind the cattle? On the postcard with the pigs that you can see you will notice that the man is carrying some type of stick over his shoulder while on the other postcard the stick has been colored black and it blends in with the cattle. Next follow the fencing until you locate the man standing on top of the fence. Do you see that there is a tall object next to the man that has been removed from one of the postcards? The last differences I want to point out are the color of the taller fence posts next to the train cars. On one postcard the tops of the posts were left white while the train cars around them were colored. On the other card the posts were colored to match the train cars.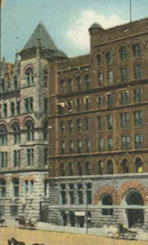 Finally I want to highlight a selection of postcards picturing the Old City Hall and Bee Building. The Old City Hall building was located on the northeast corner 18th & Farnam Streets. The Bee Buidling stood next to it. Both buildings were torn down in 1966 to make way from the Woodmen Tower. Shown here are just a few of the postcards in Nebraska Memories that feature both of these buildings. After looking at all of these postcards I wonder what these buildings really looked like. Because these buildings were not torn down until early in 1966 I would think that there is a color photo of one or both of these buildings available someplace. If you have a color photo of either of these building stashed away or you know where I can see a color photo I would love to see them!
Visit
Nebraska Memories
to search for or browse through many more historical images digitized from photographs, negatives, postcards, maps, lantern slides, books and other materials. Nebraska Memories is a cooperative project to digitize Nebraska-related historical and cultural heritage materials and make them available to researchers of all ages via the Internet. Nebraska Memories is brought to you by the Nebraska Library Commission. If your institution is interested in participating in Nebraska Memories, see
http://nlc.nebraska.gov/nebraskamemories/participation.aspx
for more information, or contact
Beth Goble
, Historical Projects Librarian, or
Devra Dragos
, Technology & Access Services Director.