The temperatures have been up and down this winter, to the extreme at either end, but only a couple of longstanding records have been broken. When many of the original temperature records were set, people didn't have the wide-range of clothing material options that we d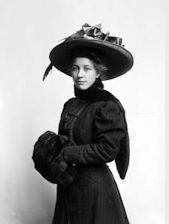 o today. Wool was one of the most common materials used for coats. We assume the coat
Miss Tony Smith
, in the picture at the left, is wearing was made from wool (
Butler County Gallery
, 1908). With fashionable puff sleeves, the hem ends about a foot above her floor-length skirt, presumably to keep it out of the wet snow and mud. On some cold mornings I would appreciate those long skirts and multiple petticoats for added warmth. It appears that the scarf around her neck is a fur of some sort. For the middle-class, fur was another material used for warm apparel such as the muff held by
Maude Zeilinger
in the photo to the right (Butler County Gallery, 1909) .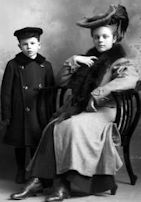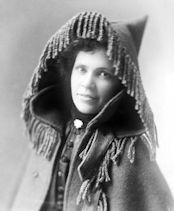 Children wore garments similar to that of adults. The teenage girl seated in the picture to the left wears also wears a wool coat almost the length of long skirts and a fur scarf around her neck. Her brother wears a coat and hat that may have been fashioned after a sailor's outfit–the wool coat is double-breasted with two rows of large buttons, and his hat is a flat cap (
C.E. McNeal family
, Butler County Gallery, 1906). While the two ladies and the teenage girl all wear fancy hats,
Christie Otoupalik
, pictured at the left, would appear to have an advantage against the cold wind with her hooded wool coat (Butler County Gallery, 1902).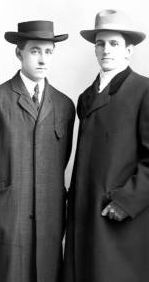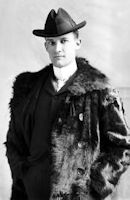 Men also wore warm weather apparal made of various materials. Friends
Matt Cram and John Ayers
wear long cloth overcoats in their studio portrait on the left (Butler County Gallery, 1907), while
Jay Rising
of Rising City, in the photograph on the right, wears a coat made from some type of fur or perhaps buffalo hide (
Rising City Library Collection
, 1902). A couple of decades later the rage would include racoon fur coats for the fashionably dressed young folks about town. While today there is a definite taboo against wearing real animal skins and fur, they have been used since the age of cavemen for clothing and other household goods.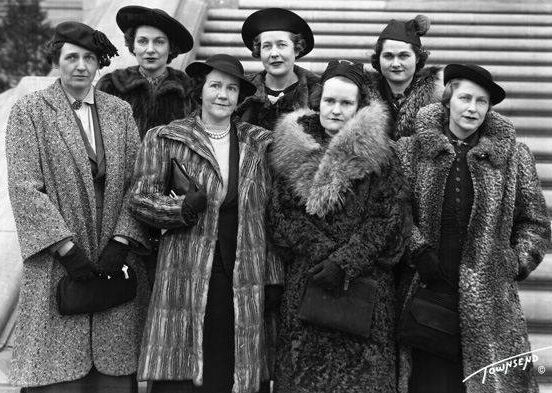 The trend for fur coats continued on for several decades. Although no longer of racoon, several of the ladies who were part of the
Fine Arts Association Committee
in Lincoln, wear full coats made of various types of fur (
Townsend Studio Collection
, 1938.) Visit
Nebraska Memories
to search for or browse through many more historical images digitized from photographs, negatives, postcards, maps, lantern slides, books and other materials. Nebraska Memories is a cooperative project to digitize Nebraska-related historical and cultural heritage materials and make them available to researchers of all ages via the Internet. Nebraska Memories is brought to you by the Nebraska Library Commission. If your institution is interested in participating in Nebraska Memories, see
http://nlc.nebraska.gov/nebraskamemories/participation.aspx
for more information, or contact
Beth Goble
, Historical Services Librarian, or
Devra Dragos
, Technology & Access Services Director.