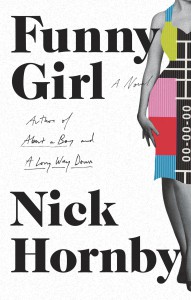 It's been almost five years since Nick Hornby released a novel, and I have been waiting eagerly for this one. So far, it has not disappointed me. While most of Hornby's other works are contemporary fiction,
Funny Girl
is set in the 1960s. It follows Barbara Parker (or Sophie Straw, once she starts using a stage name) as she rises from a small-town beauty queen with a desire to make people laugh to a national television comedy star. The book explores the theme of light entertainment versus serious art and the importance of each. Though many of Hornby's earlier books, such as
High Fidelity
and
About a Boy
, are considered to be targeted toward men, I enjoy his books in general. I think that Funny Girl in particular will appeal to both male and female readers. I'm looking forward to reading more. Hornby, Nick.
Funny Girl
. New York: Riverhead Books, 2015.