It's Valentine's Day, a day devoted to the celebration of love. Each year on February 14th, many people exchange flowers, candy, or other gifts with the special people in their lives. Go on a shopping spree in Nebraska Memories and explore some of the establishments where these gifts could be purchased through the years.
Flowers are a very traditional Valentine's Day gift. If your significant other lives close to you, you can stop by a local florist, such as the Rosewell Floral Company in Lincoln, to make your purchase. If you are far away from your sweetheart, companies such as FTD can handle long distance deliveries. This photograph of the Wilson Flower Shop in David City shows the FTD logo on their delivery truck.
Candy is another popular choice as a gift for a loved one. A sign in this Omaha candy shop promised quick service; perhaps it was a good place to pick up a last minute gift. The boxed chocolates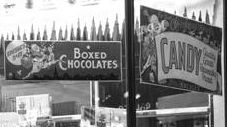 advertised in the window of this store were probably a good choice on Valentine's Days past.
Giving a gift of jewelry is another way to celebrate the day. This photograph of the interior of a David City jewelry store shows customers browsing at the counter. Borsheim's jewelry store, shown here at its original location on 16th and Harney Streets in Omaha, surely sold many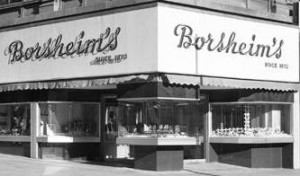 Valentine's Day gifts through the years.
Visit Nebraska Memories to search for or browse through many more historical images digitized from photographs, negatives, postcards, maps, lantern slides, books and other materials.
Nebraska Memories is a cooperative project to digitize Nebraska-related historical and cultural heritage materials and make them available to researchers of all ages via the Internet. Nebraska Memories is brought to you by the Nebraska Library Commission. If your institution is interested in participating in Nebraska Memories, see http://nlc.nebraska.gov/nebraskamemories/participation.aspx for more information, or contact Beth Goble, Historical Services Librarian, or Devra Dragos, Technology & Access Services Director.