It recently came to my attention that March is Music in Our Schools Month, a month dedicated to advocacy in favor of music education programs in schools. If you explore Nebraska Memories, you can see many images of Nebraska's students enjoying music in their schools.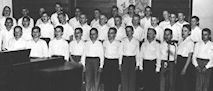 Nebraska's schools provided opportunities for vocal music, as shown in this photograph of the Irving Junior High boys choir in Lincoln. Students also had chances to

participate in instrumental music, as shown by the North High School orchestra in Omaha or the band at the Girls' Industrial School in Geneva.

The Polley Music Library collection also includes a number of programs from musical events featuring students. These events include such concerts as those sponsored by the Nebraska Music Teachers Association, as well as Nebraska All State musical concerts.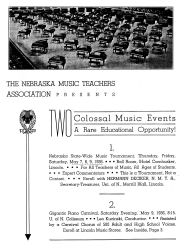 Visit Nebraska Memories to search for or browse through many more historical images digitized from photographs, negatives, postcards, maps, lantern slides, books and other materials.
Nebraska Memories is a cooperative project to digitize Nebraska-related historical and cultural heritage materials and make them available to researchers of all ages via the Internet. Nebraska Memories is brought to you by the Nebraska Library Commission. If your institution is interested in participating in Nebraska Memories, see http://nlc.nebraska.gov/nebraskamemories/participation.aspx for more information, or contact Beth Goble, Government Information Services Director, or Devra Dragos, Technology & Access Services Director.