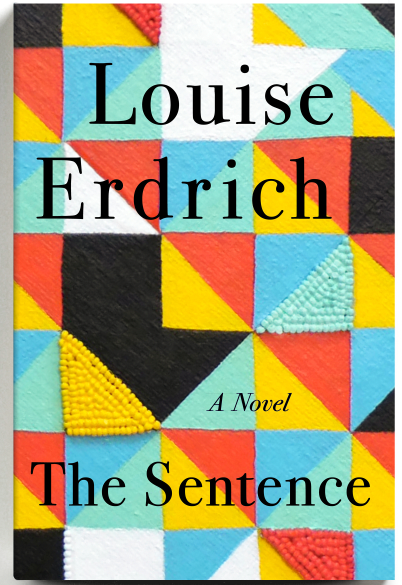 Sometimes, when authors narrate their own audiobooks, it turns out well. Even more rarely, it turns out amazingly well. I checked out The Sentence, the latest book from Louise Erdrich, from the audiobook shelf at the public library without looking at the narrator credit. I'm not sure what the hurry was—it came out in 2021 and I hadn't read it yet. Once I was ready to listen, I saw that it was narrated by the author. This can be a real hit or miss situation, as any audiobook fan can tell you—narration is generally best left to professionals. I'm happy to share that Erdrich's narration of her own book is fantastic, and brings new levels of appreciation for the text.
If you're familiar with Erdrich's work, you know that she understands her characters and their motivations deeply, and knows more about them than she puts on the page in black and white. Her narration of the dialogue in The Sentence illustrates this skill even further—each character speaks in their own distinctive way, with their own cadence and bluster or hesitation, with their own honesty and their own secrets.
The narration is so on point that I'm leading with that in this review, instead of where I would've expected to start: there is so much about books in this book. After a wild and tragic beginning in 2005, most of the story takes place in a bookstore starting in 2019, and that bookstore happens to be the bookstore Louise Erdrich owns in Minneapolis in real life. Erdrich herself is a character in the book—but she's not one of the main characters. Her appearances in the bookstore, and the way patrons look for her there, are handled with comedic humility, and told through the eyes of our protagonist, Tookie, who works in the bookstore. (There's also a ghost in the bookstore, but you should hear about that from Tookie.)
Tookie has a history, and a future, and a rich and nuanced love of books and authors and reading. Books have helped her through some hard times, and help her connect with other people, and find a way of living. (I ended up checking out the print book, also, so I could refer easily to all her book recommendations to bookstore customers.) The candid descriptions of customer interactions are refreshing, surprising—and validating. We are rooting for Tookie, and all her co-workers, especially since we know what's ahead for the world and especially for Minneapolis.
Readers new to Erdrich may have heard that she handles heavy topics—she does! And no one handles the heaviest of topics in a more readable, listenable way. The Sentence deftly, compellingly, tackles every subject that one book-selling indigenous woman in Minneapolis might find in her life or her history—including her experiences in the summer of 2020.
Erdrich, Louise. The Sentence: A Novel. HarperCollins. 2021.